Disclosure: Hosting Canada is community-supported. We may earn a commission when you make a purchase through one of our links.
Learn more.
Best Blogging Platforms in 2022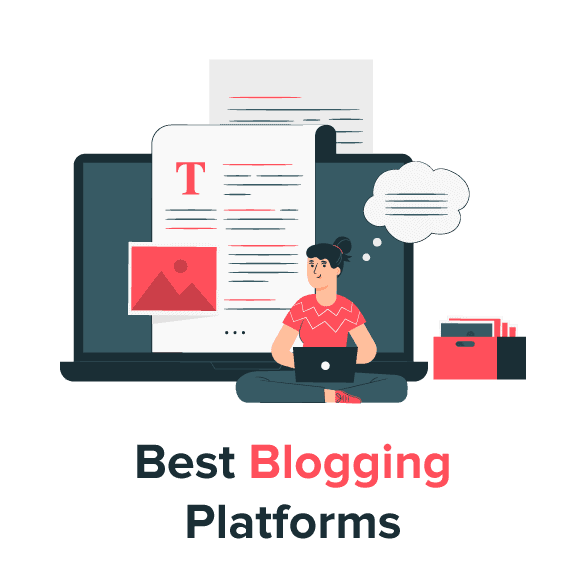 Ready to step foot into the world of blogging?
Then you had better start your journey on the right path by choosing the best blogging platform… The blogging platform you choose will impact the quality of your blog (and how much you enjoy the blogging journey.)
However, this is easier said than done…
There are well over one billion blogs on the internet today, and the number of blogging platforms available makes it difficult to choose the best blog platform.
This guide will help you identify which blogging platform is right for you by comparing each one's benefits and drawbacks.
We're assuming that you are a new blogger who wants a blogging platform that's easy to use and set up. You want a platform that will grow with you as your experience and audience grows.
If you make a mistake while choosing the best blogging platform and choose poorly it will lead to challenges in the future, especially if you are hoping to use your blog as a way to make money.
Ready to get started? Let's dive in.
Our Number 1 Pick: Wix
---
Wix is our number one pick because it is intuitive, has a number of tutorials, and is simple for beginners.
Key Features:
Established in 2006
Very intuitive
Reasonable prices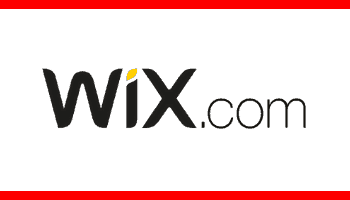 Visit Wix.com
---
PROS
No coding skills required
Easy and quick set up
Easily customizable using templates and third-party apps
CONS
Limited number of free third-party apps
Once selected, a template cannot be changed
The free account shows WIX branding and ads on your site
WIX stands out from other website builders. They have built their brand primarily on word-of-mouth since 2006. They have created a product that is intuitive and versatile yet easy to use for new bloggers who are looking for a drag and drop platform. It is an all-inclusive website builder.
The best blogging websites like WIX allow you to create your site, along with your blog, using their tools, software, and servers. The Wix admin panel lets you access your site. Other site building solutions require that you install, download, and manage the different parts of your Wix separately.
Wix can be compared to leasing an apartment as opposed to purchasing a house. You are able to customize the core and appearance of the site.
But the infrastructure, security, and construction are cared for by the property owner, who in this scenario is Wix. There is a trade-off between convenience and control.
After more than 14 months reviewing Wix on my own site and many of our clients' sites, I feel that it strikes the perfect balance of design, features, and pricing.
Wix Pricing
Wix's free plan is for those who do not mind having their site address structured like this: http://yourwebsite.wix.com/yourwebsite. The free plan allows for unlimited pages and page types. You are limited on storage and features.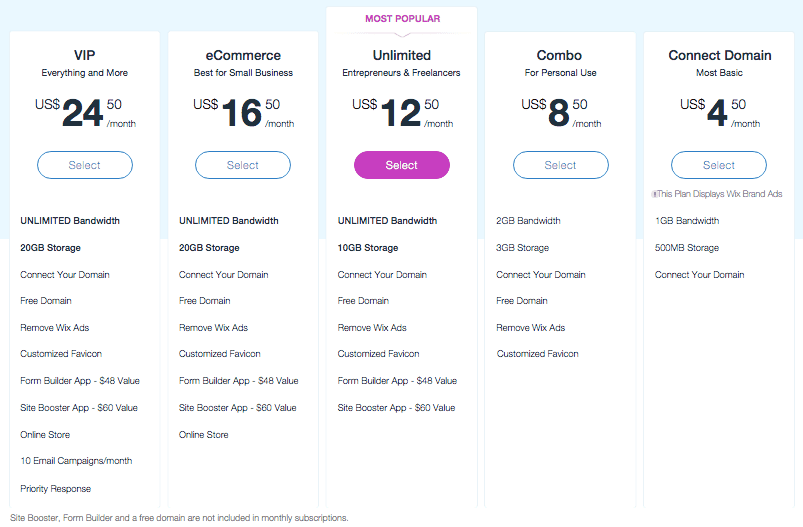 Paid plans range from $5-$25. The $5 Connect Domain plan includes 1 GB bandwidth, 500 MB of storage, and the ability to connect to your domain.
The VIP plan is $25 a month. This includes unlimited bandwidth, 20 GB of storage, professional site review, an online store, a free domain, and other features. Payment can be made using any major credit card.
When you think about the best blog platforms, ease of use comes to mind first. The Wix blog app makes it easy for you to add blogs to your website that will be supported on mobile devices. Wix provides customer support via email and phone to answer any questions you may have.
Wix lives up to its promise to be 100 percent convenient for do-it-yourself web designers and bloggers. The lack of flexibility may be a challenge for professional developers (for who we recommend Squarespace), but for beginners looking to grow their blog, we feel that Wix represents the best of what is currently on the market.
Our Number 2 Pick: WordPress
---
WordPress is our second pick because it is simple, free, and easy to maintain.
Key Features:
Monetization
A lot of themes and templates
A plethora of plug-ins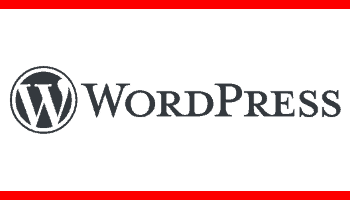 Visit WordPress.com
---
PROS
Complete control over your website
Thousands of free and premium WordPress themes
More than 45,000 free plug-ins
WordPress works well with SEO
Add features including online stores, memberships, and forums
CONS
You are responsible for backups and security
A relatively steep learning curve for managing your blog
WordPress, unlike our first choice Wix, requires a touch more knowledge to design your first blog. It's a lot easier than learning to code, but it is not drag-and-drop.
Before going much further with our best blog sites review, we wanted to explain the difference between WordPress.org versus WordPress.com.
Theme Support
WordPress.org offers full theme support. You can use, modify, and customize commercial and free themes. You can do anything you want with your site.
WordPress.com limits your themes to those currently present in the WordPress repository. Existing themes cannot be customized nor can you upload custom themes.
Plug-Ins
WordPress.org allows you to maximize WordPress's power as a CMS. You can upload and customize any plug-in that you want.
WordPress.com does not allow plug-ins of any sort. There are some plug-in like features that are built into the platform.
WordPress.com Pricing

WordPress.org requires you to purchase hosting and to pay to register your domain with a third-party service.
WordPress.com allows blogs for free and provides up to 3 GB of storage. You cannot customize your domain, and you are limited to subdomains. WordPress will show ads on your site.
Monetization
WordPress.org allows you to sell ads if you choose on your site. You can keep 100 percent of what you earn from your site.
WordPress.com does not allow you to sell ads on your site. If your site has 25,000 or more monthly page views, there is an option for revenue-sharing.
Branding
WordPress.org does not force you to brand your site with anything from WordPress. You can if you want to, but it is purely optional.
WordPress.com requires you to show the "powered by" link on your site. Additionally, WordPress will display ads on your site without providing you revenue.
These are a few of the differences between WordPress.com and WordPress.org. Other differences include how the platforms use SEO, analytics, e-commerce, and maintenance.
WordPress.com and WordPress.org provide bloggers with unparalleled support from the tutorials the sites offer as well as the immense community of users eager to help fellow users out with questions or concerns.
With all of the information available, new bloggers can quickly get up to speed and start customizing their site with little to no trouble.
Our Number 3 Pick: Medium.com
---
Medium.com is our number three pick because of its ease-of-use. It is a great option for a free blogging platform.
Key Features:
Established in 2012
Easy content import
Linked with social media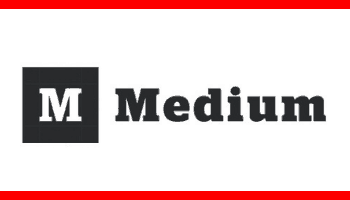 Visit Medium.com
---
PROS
Ease-of-use
No coding required
No set up required
Focus on writing, not designing a website
Connects you with an online writing community
CONS
Limited features
Monetization is not an option via ads
Medium.com owns your audience. If you lose your blog, your audience goes with it
What makes Medium.com worthy of being on our best blogging sites list is their love of content that you as a blogger can create. Medium.com is a platform that has allowed authors to share insights since 2012. It lets your content reach a large audience. Medium.com has been described as Twitter in long form format.
One perk they offer is the ability to import blog content from anywhere on the Internet. Once it has been imported, you are able to edit it freely.
Even better, your social media following follows you to Medium.com. Linking your Medium account to sites like Facebook and Twitter automatically connects you to friends who use Medium.
Medium shows you how many readers you have. It tells you which ones make it to the end. Some publishers turn to Medium.com as a way to find new contributors for their sites.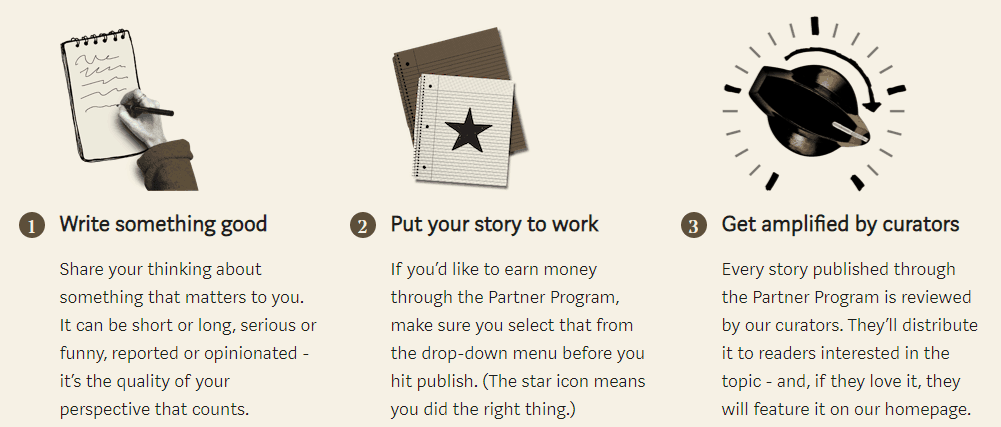 Medium is API free. The followers you have are legitimate, adding more credibility to what you write.
Medium is not the right platform for complicated and technical writing. Bloggers who focus on life learning, entrepreneurship, and politics may fare better.
Unlike with WordPress, you do not own anything on Medium.com. Medium Corporation can shut you down at their discretion. They can cancel your account as they please, and they can change pricing plans.
Using Medium does not grow your brand as much as it does grow Medium's. When you write, you are essentially promoting Medium.com which is why Medium earned third spot on our best blog websites review.
If you are a popular writer, people are going to remember what you wrote and will remember that they found it on Medium.com, but they will not remember your name as well as they would had you written on your own domain or social media account. Just the opposite is true with sites like WordPress.
Medium.com is free. It can increase your exposure, but it has severe limitations. We feel it is worth the price you pay for it.
Our Number 4 Pick: Blogger
---
Blogger is an old platform that struggles to meet the needs of modern bloggers.
Key Features:
Founded in 1990
For specific groups of bloggers
Evan Williams was the founder of Blogger, Twitter and Medium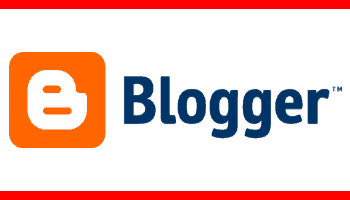 Visit Blogger.com
---
PROS
Easy to set up and manage
Takes advantage of Google's security and reliability
Completely free
CONS
Limited features
Limited templates and design options
Updates are infrequent
Google can cancel or suspend your blog at their discretion
Blogger, the grandfather of blogging, was founded by Evan Williams in the 1990's. Evan Williams later went on to found Twitter and Medium. Matt Mullenweg's frustration with Blogger led him to start WordPress. Blogger is considered antiquated and full of forgotten technology by many.
Now owned by Google, Blogger is completely free. Its all-inclusive nature gives you everything you need. Yet, writers must trade control for convenience.
Blogger focuses on blogging (…duh); there is little content management capability build into the platform. Not surprisingly, the biggest complaint about Blogger is that it lacks features, causing writers to quickly outgrow the platform.
Google sees Blogger as an afterthought. The customer service and support they offer is less than stellar. Any troubleshooting you might need will come from support forums or searching YouTube videos.

Blogger is a platform that refuses to grow. Their only focus is blogging. Other sites allow you to promote your content using social media.
However, Blogger seems content to chug along doing things the way they've always done them. That's not necessarily bad if your focus is just blogging. But if you want the bells and whistles present in other platforms, they just don't exist here.
Google has kept Blogger going for more than a decade. There is no indication that it will disappear soon. However, Google has a reputation for killing its products on a whim. Blogger is not currently nor has it ever been a priority for Google. It will constantly be under threat of getting shut down.
Since your content is hosted on a Google blog platform, you need to adhere to Google's content policy. The policy is liberal (and getting more liberal every year…), but more than one blogger has seen their blog shut down because of Google's arbitrary enforcement.
If your blog is on a topic that could be considered controversial, you should think twice before investing your time and energy into writing on a platform that you do not have complete control over.
There may be a small audience that benefits from using Blogger. However, we feel that it is not a good fit for the majority of bloggers.
Our Number 5 Pick: Tumblr
---
Tumblr is a microblogging platform that includes some social network features.
Key Features:
Suited for younger generations
Many similarities with social media
Lacks tools and plug-ins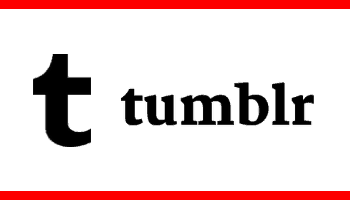 Visit tumblr.com
---
PROS
Easy to use
Easy to integrate social media components
Make it easy to use images, videos, GIFs, etc.
CONS
Limited features
Poor choice of themes
Difficult to backup your blog
Difficult to import or export projects
Tumblr is designed for younger clients. The dashboard should be intuitive but requires a serious learning curve. The blog is subordinated to multimedia.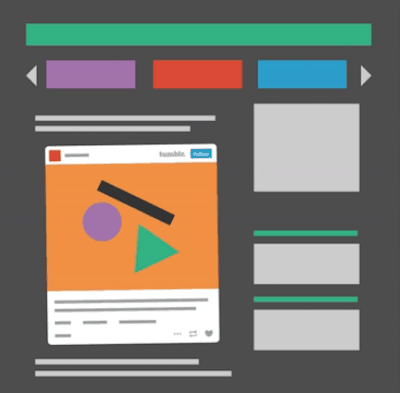 Text-based content lacks serious options and tools. As a beginner, you may enjoy some of the artistic tools that are available. Your blog may look attractive, but it will lack the bells and whistles your readers have become accustomed to.
Search engine optimization tools are not present with this service. This is a major drawback, especially if you see your blog as a future source of revenue. Tumblr boasts an ever-growing membership base.
However, what they fail to mention are the droves of people who leave the service each month when they realize that it lacks the tools needed to make blogging a success.
We do not feel that Tumblr is a good option, especially for new writers. You do not want frustration to cause you to give up on blogging altogether.
We recommend you look at our number one pick Wix. It provides you with all of the tools you need to create an attractive blog. It's easy to use and intuitive.
Conclusion
---
Worldwide, there are more than 400 million blogs. People turn to blogs to find a community that shares their same ideals, interests, hopes, and aspirations. If you are looking to start your own blog, you are beginning a tremendous journey that has a number of rewarding benefits.
Before you start blogging, you need to choose the right blogging platform. You want the platform that you select to be easy to use, affordable, powerful, and to work seamlessly with social media. For our money, Wix is the answer.
We hope you enjoyed reading our post. Are you a new blogger? What platforms have you used? Let us know in the comments section below. Until next time.
When you're ready to upgrade your blog, you'll need a good host. Check out our guide to the best web hosting for Canadian bloggers to see who takes the cake.