Disclosure: Hosting Canada is community-supported. We may earn a commission when you make a purchase through one of our links.
Learn more.
Best Email Hosting Services for Canadian Businesses in 2022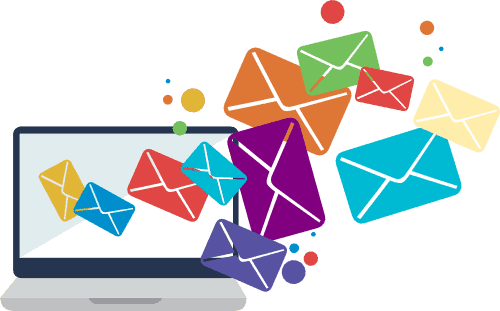 OK, we won't beat around the bush. When you're trying to grow your business and subscription list, a great email hosting provider is critical to helping you optimize your email capabilities.
Hey, we love all the other office chat, too, but for the past few years, email has been the number one way to communicate and distribute valuable information over the Internet, with nearly 250 billion emails sent every day.
…And with roughly four billion email accounts around the world (more than one half of the world's population), it has kind of overtaken almost any other communication tool you can imagine.
It comes as no surprise, then, that there are hundreds of email hosting providers, with some being pretty good and others not so great at taking care of your business email accounts. And while there is no one-size-fits-all answer here for your email hosting plans, you'll have enough to go by to help you make an intelligent decision by the time you're done reading this.
Before we dive in, I want to address the question on everybody's mind…Can I just use a free email host?
There's nothing wrong with using a free web-based email hosting service for your personal correspondence and digital coupon collecting (#20%offbeotch).
However—if you want to be taken seriously in the ever-evolving world of online business, then you'll want to use a more robust solution that will allow you create an email hosted @yourdomain.com in lieu of the more amateur@gmail.com or @hotmail.com (heaven forbid).
Slow Down – You Got a Lot of Options 📜
---
Now, before you get freaked out about the seemingly endless stream of upgrades and new purchases you're being forced into to get your website up and running.
You aren't going to need to invest yet another $10-$20/month to gain access to this important feature.
In fact, if you know what you're doing, you can actually secure an unlimited number of @yourdomain.com email accounts as a part of your standard web hosting service.
To help you sidestep the rip offs and scam companies who seek to part you and your hard earned cash, we've put together a quick list of the 5 best web and email hosting services of 2022 that will give you free access to all of the @yourdomain.com email accounts your heart desires.
Let's get after it.
TL;DR Please!
In a rush? No worries, we've got you. If you don't have time to read the full review and choose the best business email hosting to suit you. We will go ahead and spill the beans, we'll just level with you.
If you want to get the biggest bang for your buck, then you'll want to go with SiteGround. They offer an affordable hosting service with the most reliable uptimes, lightning fast load times, unlimited email accounts, and fantastic customer support. Seriously… We love these guys.
Not sold yet? No worries, we've got more for you. Keep reading.
How We Reviewed These Hosts 📝
---
If you're one of those 'special' people who feels compelled to compile a 32 page color coded binder to research any purchase over $50 (no judgement, we've been there), then you can head over to our Homepage to learn about our web hosting reviews process in greater detail.
The abridged version, however, is that we've been running a development team that builds and maintains client websites (900 of them at this point) for over a decade.
With the sheer length of the projects we've handled, we are privy to unique uptime and load time data (not available to the general public) that goes back more than 10 years.
The math geniuses in our squad have been kind enough to put together some graphs and statistical analysis for us so that we can provide you with the raw data you need to definitively determine which email hosting service is right for your needs.
1. Zoho
A constantly improving service, a Zoho subscription is an investment that will pay dividends. 💳

---
Key Features:
$1.00/month for Lite
$4.00/month for Premium
24/7 Live chat and Call center Support

Visit Zoho.com
PROS
Price is a bargain
Free service up to 5 users
CONS
Customer support can be slow
Zoho is our clear winner here. Truth be told, even if all its features and extensions were average, it'd still win out on volume and applicability alone. But thankfully, every facet of this email hosting service is of premium quality, but for a bargain price.
Zoho has got the solution to pretty much any email hosting problem you could ever have, and I mean that literally. Whether its one of their endlessly tailored apps or seamless integration with other well-known services (dropbox etc.), Zoho will have you covered – other email hosting providers should strive to be like them.
Free intro service

Zoho is a fantastic service, but there's plenty of other Email hosting services out there for a company to consider, so why fork out the cash for this one?
That's where the free service comes in. An abridged version of Zoho is available for free indefinitely. Giving you as much time as you need to consider purchasing the full version of the best email hosting.
The free version is only available for 5 users, so for a growing business, a paid plan is necessary. But we're certain that even if this wasn't the case, Zoho Forever Free would have you salivating over the prospect of the paid product anyway.
Airtight Security

With top of the line security as standard, and extra S-MIME encryption protocols with the Premium plan, your emails are certain to be secure with email server hosting such as Zoho.
They have all the phishing and spam filters you'd expect of a quality email service, with the added bonus of an above-average privacy policy. All this combines to make their security tough and well-rounded.
Related: How to Uncover Phishing Websites Through Web Analytics
A plethora of extensions

I could literally write a thousand plus words on all the niche features the Zoho email service, but I'll try summarising.
It's clear that with Zoho's endless host of extensions, they are trying to be the only email-hosting service you'll ever need (and if you ask us, they are). In the unlikely situation can't find a specific extension, even their basic Mail Lite plan has an integrated extension development suite; meaning you can alter the service in any way you need.
Whether you want to use it on the go in Zoho's integrated iOS and Android mobile apps, institute advanced email routing, or set up domain aliases (to name but a few features), you won't be constrained. There's very little you can't do with Zoho.
A Tool for Collaboration

Email might be the top global form of information, but it's a well-known fact that social media is giving business email hosting a run for its money.
Zoho synthesizes the best aspects of both, creating a seamless system for internal communication.
The Streams feature allows you to interact with email content and other announcements in a social media style, allowing your colleagues to like, comment, and share with ease.
This added layer of communication makes Zoho one of the most innovative and intuitive Email-services out there, giving it an undeniable competitive edge.
2. Namecheap
A simple, no-nonsense solution to private email hosting 🕵️
---
Key Features:
Load time: 376 ms
Uptime: 99.99%
Support: Live Chat and Ticketing
Cost: €0.91/month to €4.29/month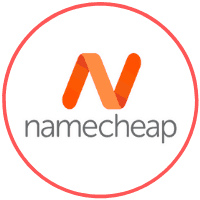 Visit Namecheap.com
PROS
In business for more than 20 years
Affordable
---
Over the past 20-years, Namecheap has successfully accumulated millions of customers looking for a cheap domain name and private email hosting package. And once you take a look at their plans, you'll quickly understand why so many people across the globe trust Namecheap's affordable, safe and trustworthy email system suitable for both business and personal use.
As a matter of fact, for the last few months, we've been testing out their hosting plans, so it's safe to assume that we have enough knowledge to give an honest review of Namecheap.
Airtight Two-Factor Authentication
When looking for an email hosting service, one of your main priorities should be protection and the safety of your emails. Luckily for you, Namecheap has you covered with two-factor authentication (2FA).
Even if you happen to have your password stolen, you can keep your Namecheap account and emails safe by adding an extra step in addition to your username and password. The best part about it? It's absolutely free, proving that for Namecheap, customer security is a priority.
On their website, you can choose from three of the best 2FA methods available right now, including TOTP (Time-based One-Time Password), OneTouch (SMS) and U2F (Universal 2nd Factor). TOTP allows you to secure your Namecheap account using another device with a frequently-changing password.
OneTouch enables you to use your mobile to conveniently secure your account with a single tap of a button. While U2G uses NFC or USB devices to quickly secure your account.
Anti-Spam Protection
At first, spam is fairly tolerable, but the more your spam box fills up, the less patience you tend to have. Unless you're a casual email user, nobody has time to sort through every single email, manually deleting messages that may or may not be spam. Which is exactly why Namecheap includes anti-spam protection in all of its private email hosting plans.
Namecheap Spam Protection system works by using self-learning smart technologies to erase spam before it even reaches the network, which is exactly why it has a low false positive rate.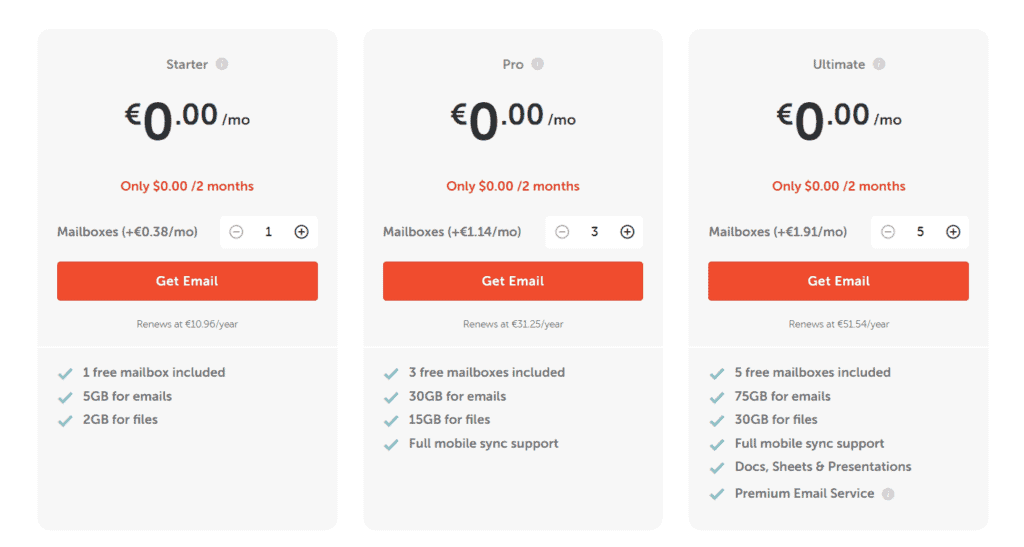 Free 2 Month Subscription
Unlike Zoho, Namecheap doesn't offer a free, unlimited email hosting service, though they do offer customers a chance to test out all of their plans for up to 2 months. In this time, all of the plans are free with no limit on functionality. You don't even have to put your payment details in, either. Having said that, the price to add more mailboxes will increase depending on the plan you choose.
In order to test out the service, you will also require a domain name with Namecheap which starts out at €8.19 per year + 0.17 c ICANN fee. When placing your order, you can either purchase a new domain, use a domain already owned with Namecheap, use a domain from another registrar or transfer your existing domain if you already have one.
3. SiteGround
Bonuses and Customer Support ($4.99/month) 🤝
---
Key Features:
Load time: 475Ms
Uptime: 99.95%
Cost: $4.99/mo
Support: Live Chat

Visit SiteGround.com
PROS
Regular Updates
Sizable Mailboxes
CONS
Higher prices for renewal
It's no secret that we are big fans of SiteGround (and have been for some time). During the 7+ years that we've used SiteGround both for our own websites and those of our customers, the performance, support, and quality of service that we've received has been remarkable. They're one of the few web hosting services who doesn't just "Set and forget" their hosting infrastructure.
They regularly update (and completely replace) their data center servers and are committed to continually refining their services to provide the best hosting on the planet. While they aren't without their flaws, they are far and away the best web and email host we've ever used.
99.95% Uptime & Great Load Speeds
For starters, SiteGround's most basic web and email hosting packages are incredibly reliable. With a strong 99.95% uptime over the past 12 months, SiteGround provides the kind of reliability that is usually reserved for more VPS and Dedicated Hosting clients. Trust us, with SiteGround, you'll never have to worry about extended periods of downtime or inexplicable server crashes.
Offering 475 Ms load speeds (on average) SiteGround is also the fastest web/email host that we've ever reviewed and will ensure that you never lose a potential customer or client to a laggy website ever again.
Free Unlimited Email Accounts & Sizable Mailboxes
All SiteGround hosting packages come standard equipped with an unlimited number of email accounts and a generous mailbox size.
Even the "Startup" plan offers a 2,000 Mb inbox size and up to 400 email sends per hour.
Incredible Security Features
In addition to the great uptime, fast load speeds, and unlimited email accounts, SiteGround also offers their customers access to a plethora of security features that will keep your emails and your website safe from prying eyes and hackers.
All new customers are given access to a free SSL certificate, Imap and Pop3 email delivery, and a free CDN. Not too bad for the price of pack of cigarettes (oh, and SiteGround won't give you lung cancer either… so there's that.)
4. Hostgator

Super Affordable Service with Great Features and Uptimes 🆙
---
Key Features:
Load time: 601Ms
Uptime: 99.4%
Cost: $2.99/month
Support: Live Chat

Visit HostGator.com
PROS
Fast hosting
Plenty of storage
Despite their ridiculous sounding name (I mean c'mon guys… what do alligators have in common with hosting and email?), Hostgator offers some of the best email and web hosting packages in the business at a price that is nearly unbeatable.
While their uptimes and load speeds aren't quite on par with SiteGround, considering the fact that their hosting services cost next to nothing, you really can't go wrong with this exceptionally high quality (if admittedly silly-sounding) email host.
Great Uptime & Load Speeds
At only $2.99/month, Hostgator offers uptimes that are only 0.01% lower than SiteGround's at less than 75% of the cost. With equally impressive load times (601 Ms) Hostgator is, by far, the most affordable email host on the market for the quality of the service that is provided.
Unlimited Email Accounts with Great Security Features
No matter the level or length of the hosting package which you choose to purchase, Hostgator offers access to an unlimited number of email accounts that all come equipped with Pop3 and SMTP (simple mail transfer protocol) delivery and the added bonus of Hostgator's Spamassassin feature (to prevent you and your employees from getting bogged down with Saudi Princes asking for a "Small $7,000 loan")
Exceptional Customer Support
As with all of the hosting services we recommend, Hostgator offers 24/7 live chat or over the phone support to ensure that you can keep your website and email accounts running smoothly no matter the time of day.
After submitting dozens of intentionally confusing and somewhat ridiculous (sorry again Diane!) support queries, we were blown away by the ease and speed with which their representatives helped us.
Great Value for the Price You Pay 📊
---

Load time: 601Ms
Uptime: 99.1%
Cost: $3.92/month
Support: Live Chat
Visit A2Hosting.com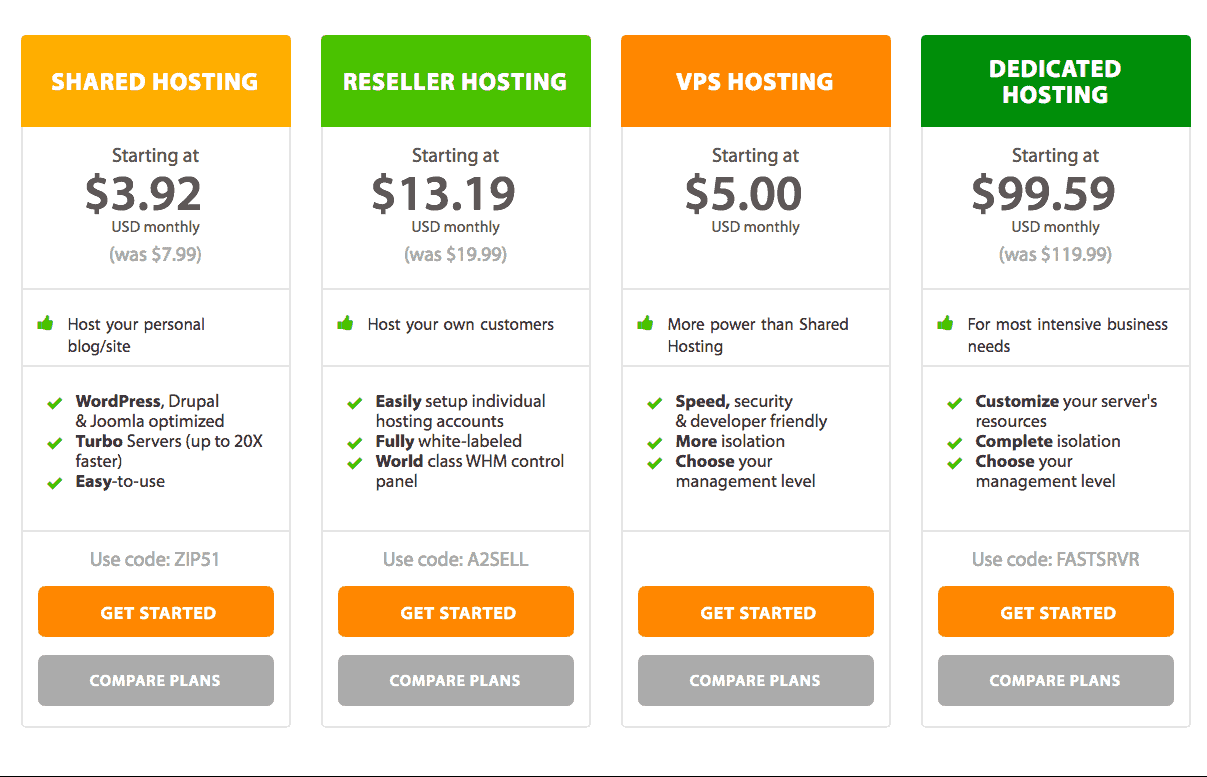 A2 Hosting, the final service on our list, comes equipped with a number of great features and offers their customers access to fast and reliable performance that is an absolute bargain for the price that you're paying.
Unlike SiteGround and HostGator, their cheapest hosting plan — A2 lite at $3.92/month — only gives you access to 25 email accounts (bummer). However, considering the exceptional performance and abundance of extra features, we have a hard time holding this against them.
25 Email Accounts with Great Security Standards
Although we were a little bit disappointed that A2 only offer 25 email accounts in their Lite hosting package (unlimited on all others), their impressive performance and abundance of additional features more than makes up for this small transgression.
Not only do you have access to the traditional Imap and Pop3 delivery options, but A2 Hosting also allows you to use Imap SSL and Pop3 SSL to further encrypt your messages and provide you and your organization with total peace of mind.
Great Uptime & Fast Load Times
Although they don't quite match up to SiteGround in terms of speed and reliability, the difference is nominal for the price you're paying. With 99.91% uptimes and a blazingly fast 625 Ms load times, A2 will ensure that your website stays operational and quickly delivers the content you customers need on time, every time.
Exceptional Customer Support
Before every review that we publish, we always make sure to put the customer support team through their paces by obnoxiously submitting a series of increasingly technical and convoluted tickets.
Much to our surprise, A2's 24/7 customer support is highly responsive and wickedly effective. No matter how labyrinthine our requests, their support staff handled it quickly, politely, and with a high level of professionalism.
Great Website Security Features and Free SSL

Since you're (hopefully) piggybacking your email hosting service on top of your standard website hosting, you'll be happy to hear that A2 Hosting, like SiteGround, comes chalked full of the latest security features and offers to ensure that your website is all but "hacker proof".
Offering a free SSL certificate to all new customers as well as a free Cloudflare CDN, New Relic Server Monitoring, and more, you can rest easy knowing that A2 has you and your website covered.
What to Look for in a Web + Email Host 🚉
---
If you want to signup with a web host that guarantees 12+ months of agonizing customer technical issues, nonexistent uptimes, and customer service that is so abysmal that you're literally tempted to set your hair on fire in frustration… Then you'll want to go for the cheapest web/email host possible.
But we're going to assume that you're fond of those luscious locks and so, today, we're going to help you figure out exactly which criteria you should focus on when comparing potential email and web hosting services.
Namely, you should look for email/web hosts with:
☑️ Free unlimited email accounts
☑️ Imap and Pop3 Email Delivery
☑️ Fast Speeds and Reliable Uptimes
☑️ High quality customer support
Don't worry… Every host that we're about to recommend passes these criteria with flying colors.
Free Unlimited Email Accounts
There are a lot of companies who charge you an exorbitant rate for each individual email account (yeah, we're looking at you GoDaddy).
Sometimes upwards of $5/account per month. This is a pure rip off and, if you see a company advertising "Cheap Email Accounts" then you should run for the hills.
Any web/email hosting service worth their salt will offer you an unlimited number of email accounts (or at the very least 25+) absolutely free as part of your standard hosting package.
Imap & Pop3 Email Delivery
Although this is a standard feature across most email hosts. Some of the cheap hosts out there will use outdated email delivery standards that open you and your internal correspondence up to a myriad of potential security risks.
Do yourself a favor and make sure that whatever host you choose offers Imap and Pop3 email delivery. These security standards will ensure that your private emails stay, well… private and it will prevent your information from falling into the wrong hands (i.e. competitors and hackers).
For many small businesses, email deliverability is a matter of survival. Once you've signed up for an email host and secured your company email, we recommend integrating it with a dedicated email marketing service. Services like Constant Contact, MailChimp, Aweber and ActiveCampaign drastically increase email deliverability, so your messages reach their intended destination without a hitch.
Fast Speeds and Reliable Uptimes
It doesn't really matter if you have an unlimited number of email accounts and an over abundance of storage if you're website isn't online long enough for people to access your content quickly and actually find a reason to email you!
In the world of web hosting, there's no number of "Free Bonuses" or "Extra Marketing Goodies" that can make up for shoddy uptimes and slow speeds. You'll want to make sure that any host you choose has an uptime of at least 99.5% and load speeds faster than 1,200 Ms.
High Quality Customer Support
I hate to burst your bubble here, but if you decide to jump into the world of building and maintaining your own website, then you are going to need customer support at some point in time. It's an inevitability that faces all webmasters.
And when it finally happens (trust us, it will), you'll want to make sure that the hosting service you use offers fully accessible and highly efficient customer support to help you get back up and running as quickly as possible.
Look for companies that offer 24/7 live chat or over-the-phone support and be sure to peruse through reddit and web hosting forums to gauge the public opinion on the company's customer service.
With all of this out of the way, let's dive into the top 3 email hosting services of 2018!
Final Thoughts on Email Hosting 🏁

---
Whether you're looking for a single email account for your latest blog or dozens of new corporate accounts for that epic startup you're launching with your friends, the three services we've reviewed in this short guide will not disappoint.
Let us know which one you pick in the comments below and, as always, if you have any questions, comments, concerns, or feedback, please feel free to reach out and we'll get back to you as soon as possible!
You May Also Like:
---
References and image credits:
ByarvitSolutions.com
PointCloser.com
WebSeoMarketers.com