Disclosure: Hosting Canada is community-supported. We may earn a commission when you make a purchase through one of our links.
Learn more.
HostGator Review (2021)
You've got a master plan. You're going to quit your boring day job, launch a website, and then make enough passive income to retire on a tropical beach somewhere in Thailand…😎
But before you start writing up your resignation letter to hand to your boss, make sure you have a plan for where you'll be hosting your new website.
Without a solid, reliable, and fast web hosting provider, your new venture will be doomed to failure.
Fortunately, these days you don't need to be a technical wiz in order to get a new website up and running. This HostGator review will help you set up and host your new site in just a matter of minutes.
You've probably seen advertisements for HostGator online or heard commercials for it on your favorite podcasts. The company has been around since 2002 and actually opened its first international office in Canada, in June 2006.
You won't find many alligators in the Canadian wilderness (we hope) but read on to find out if HostGator lives up to the hype.
How We Tested – Live HostGator Tracking
---
Reviewing a web host is no small task. Providers must be evaluated on a number of factors, including speed, reliability, and of course cost. The best way to get this data is to test it. Unfortunately this isn't something most people can do effectively.
At HostingCanada, we base all of our web host reviews on quantifiable metrics and statistics. If a web host provider is not worth the money, we'll tell you straight up. See our live tracking here, including HostGator.
In evaluating HostGator's performance against other top providers, we've captured metrics from several major Canadian cities and provinces.
Your end users will likely be spread across the country and the globe, so it's important for your web project to load fast from all locations. For more detailed info check our process for testing.
Here's an overview of our approach to this review of HostGator's offerings:
First, we'll give you the raw numbers of HostGator's performance, including uptime, speed, and reliability.
Then we'll move onto pricing and evaluate HostGator's product offerings to help you find the best value.
Lastly, we'll compare Hostgator to other popular platforms and give our overall recommendation for you, our loyal Canadian readers.
Results from 4 Cities

Here we go, stat nerds. It's time to dig into the mathematics of web hosting with HostGator.
All of our tests were run within Canada to help get an accurate mix of results across the country. To get started, check out the results below from our four testing locations.
---
Montreal

Uptime – 98.6%
Average Loadtime – 1,912ms

Toronto

Uptime – 98.9%
Average Loadtime – 2,012ms

Vancouver

Uptime – 97.5%
Average Loadtime – 2,182ms

Winnipeg

Uptime – 98.09%
Average Loadtime – 1,658ms
---
People say there's nothing to do in Winnipeg, but look! They have internet! And pretty fast internet, too. 💪
So what do these numbers actually mean? Well, first it's important to understand the terminology. When we talk about update on HostingCanada, it refers to a measure of how consistent the hosting provider's services are.
The statistic is presented as a percentage to indicate the overall time that the hosting provider is online and functioning normally.
For example, HostGator has performed with 98.6% uptime from Montreal testing locations. This means that in all of the data we've collected in our testing, HostGator services were unable for only 1.4% percent of time for Montreal users.
The math equates to around 122 hours of downtime over the course of a year. This is pretty good. 
When gauging uptime performance, even a fraction of a percentage point can make a significant difference to your website's availability. At HostingCandada, we consider uptime metrics of over 98% to be strong, with anything below that classified as poor.
The very best hosting companies guarantee 99% uptime or else will refund you some of your payments if that expectation is not met.
How About HostGator's Loading Times?
Now in switching gears to loadtimes, our focus shifts from overall availability to actual speed measurements.
The numbers compiled by HostingCanada are an average over months of testing with HostGator's platform with various browsers like Google Chrome, Mozilla Firefox, and Microsoft Internet Explorer.
Times provided above are measured in milliseconds and cover the length of a full request and response to a cloud web server.
Keep in mind that your website's end users may seem some variation in response times due to a variety of factors, including local network speed, browser behavior, and server traffic.
Overall, HostGator's loadtime speeds perform well against other common providers available in Canada.
Loadtimes that average at 2,000 milliseconds or less are considered to be high performance, as it means the end user will face very little delay when loading the webpage.
Hosting providers with slower response times are risky to use, because your readers and customer may get annoyed with the delays and choose to browse other sites instead.
HostGator Pricing Explained

---
Speed and reliability are of course important when selecting your web host, but when it comes down to making a final decision, pricing can be the biggest factor.
After all, if you are a small business owner or are trying to launch a new startup, your budget will likely be tight and you'll want to find the most affordable plan which can still provide solid performance.
At the same time, it's important to not just pick the cheapest hosting option and then hope for the best.
HostGator splits its hosting offerings into three plan options: Hatchling, Baby, and Business. The first two are inspired by their reptile mascot and are aimed at small customers or individual websites, while the Business plan targets enterprise users.
See below for the current pricing that HostGator offers for Canadian customers, though keep in mind that these rates change often, especially when HostGator runs sales on their different plans.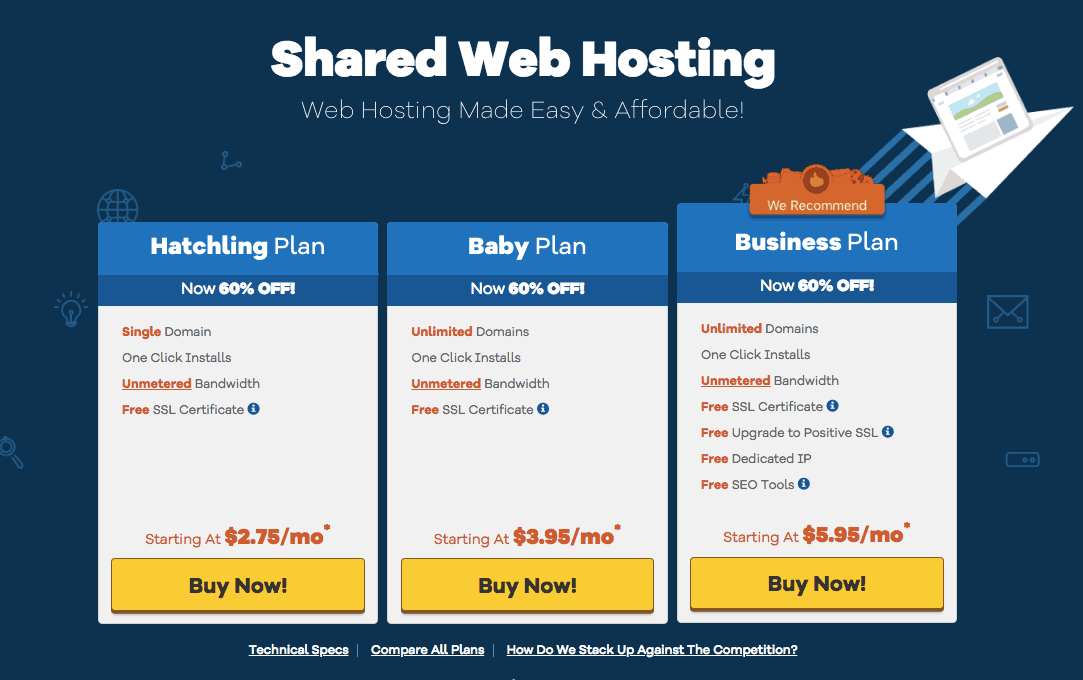 There's only one major difference between the Hatchling and Baby plans, and it's the number of domains allowed to be managed. With the Hatchling plan, you can only link a single hostname, like a .com or .net, to your hosted environment.
By upgrading to the Baby plan, HostGator will allow you to configure your cloud environment to work with an unlimited number of domains.
For this reason, the Baby plan cost increase is worthwhile if you plan to spread your web project across multiple sites and domains.
Surprisingly, HostGator's Business plan does not include a large number of significant advantages.
It does, however, include a dedicated IP address for stable hosting and an automatic upgrade to Positive SSL provided by Comodo. A dedicated host can provide extra security and more efficient performance for your web project.
The Business plan option also allows you to install a custom SSL certificate if you choose not to use the included one.
For Canadian web customers, HostGator offers an overall solid value for money. Compared to other hosting options of the same caliber you're getting roughly the same services but with much faster performance than some of its competitors.
Hostgator Extra Goodies – Free SSL and Ad Spend

---
Web hosting companies will often throw in extra features or language support as a way to sweeten the deal. HostGator is no different. See below for some examples of their added package offerings.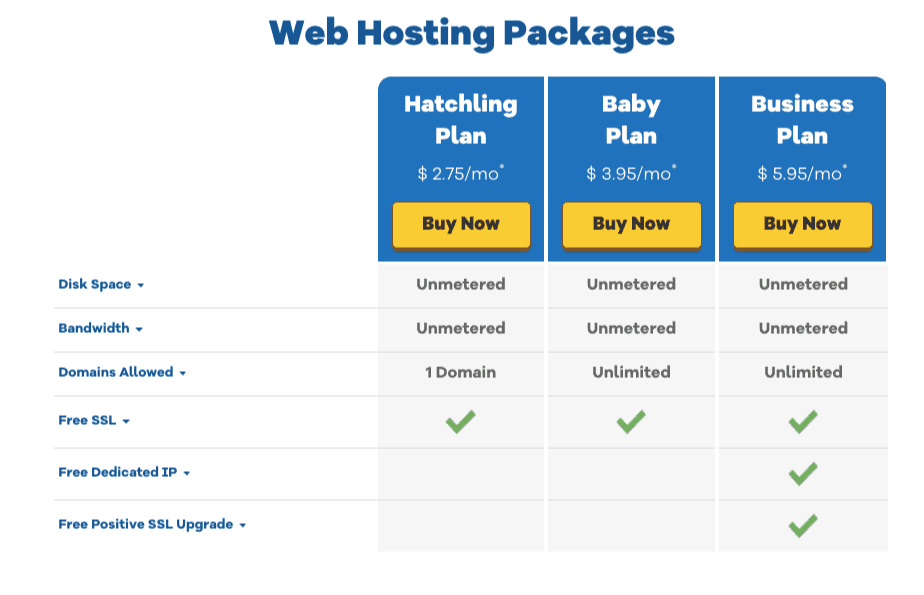 It's important to note that all HostGator plans now include a basic SSL certificate, which will allow you to encrypt all transmissions between your hosted website and end user browsers. Not sure how SSL works. Read this article to learn the basics.
All HostGator plans also come with a $100 credit for both Google Adwords and Bing advertising. With this credit, you can set up ad campaigns on both platforms and then learn how to monetize your website.
HostGator makes it easy to launch a website using whatever programming language you prefer. The platform supports Python, PHP, and Perl, among others.
HostGator also provides all customers with email hosting, which allows you to configure different mailboxes for use on your website's domain. This includes support for both IMAP and POP3 email protocols.
Support for email hosting is crucial if you plan to run email marketing campaigns through your new web project.
HostGator Customer Service Score 8/10

---
You may like to think that nothing will ever go wrong with your website once you get it hosted on the live internet, but that's not the case.
You should always consider a provider's customer support reputation and offerings before choosing which platform to use.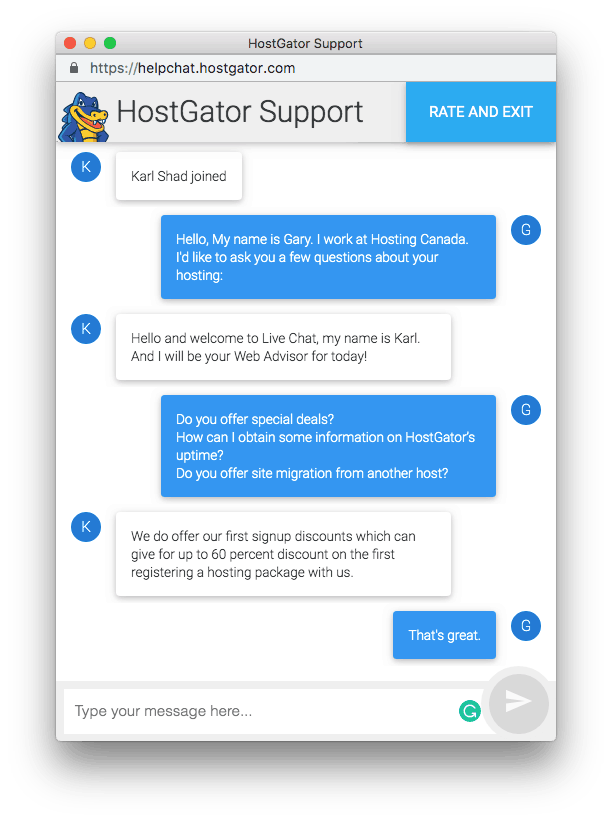 HostGator offers customer support all-day, everyday, year-round, regardless of what type of pricing plan you have signed up for.
You can contact their support staff through email, phone, or a live chat system.
HostGator support is on a par with other great hosting services such as Bluehost, which you can read more about in our Bluehost vs HostGator comparison.
Based on HostingCanada's experience, we've found HostGator's technical support to be rather helpful and easy to get in touch with.
But you should note that their website guarantees 99% uptime, which does not match with our own testing results.
I wanted to mention that if you're just starting out building your first site than having quality support is incredibly important.
Not only will it save you a huge headache of having to figure out technical issues yourself you'll end up saving money now hiring outside help. You'll be surprised how many requests you can make to their support staff. 😉
Do We Recommend the Gator?
We absolutely do. HostGator is like the Ford Focus of the online hosting world. It's not fancy or flashy, it's not ultra fast or too slow.
Instead it sits right in the middle with great performance compared to price, quality support and a host of other extra features.
We've also hosted several of our own sites using HostGator in the past and had great results.. As you can see from the metrics in our live tracking, HostGator has proven to offer great reliability and faster connection speeds.
HostGator also offers affordable pricing with their different tiers of plans, which are very comparable to other major hosting companies.
Visit HostGator.com

Importantly, HostGator also includes a free basic SSL certificate for all customers, regardless of their plan.
Contracts with web hosting providers can often be locked in for a period of many months or even years. If your website is currently hosted elsewhere, you should find out what kind of commitment you have signed up for and what transition options are available.
With HostGator, you can migrate an existing web project onto their platform with minimal interruptions. Then you can go ahead and enjoy the best hosting experience on the cloud.
Summing It Up

---
HostGator is a strong competitor in the web hosting industry, making the cloud affordable for Canadian customers and offering a good number of added features.
You May Also Like:
---
References and image credits:
We do our best to independently research products to better help our readers make decisions. That being said, we also want to hear your opinions. We accept individual reviews that are informative and non promotional. Please fill the form below and we'll publish your review. Promotional reviews by companies themselves will not be published. Thanks!
Mariam 1/10 Speed : Slow Usability : Very Complicated
July 9, 2019
They are stealing money
Do not use the site and do not enter any of your personal information.
Otherwise you will find out one year later, that their system kept your information and settled the payment method as an automatic and you will be charged for whatever package you were looking for. even though you thought you deleted your information there.
Most importantly, they do not refund? Because they are desperate, hunting for every penny they can steal!
Add your own review:

[schema_rating]