Disclosure: Hosting Canada is community-supported. We may earn a commission when you make a purchase through one of our links.
Learn more.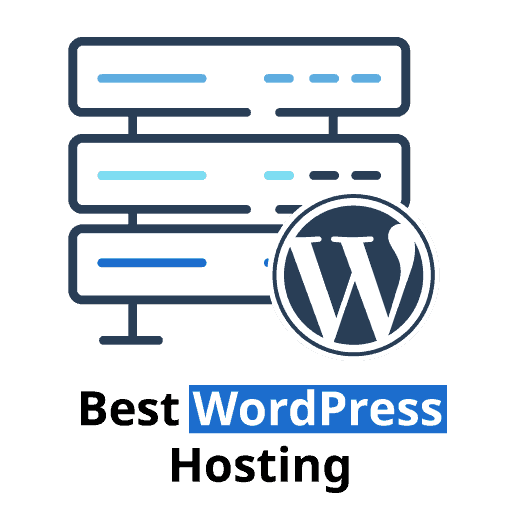 WordPress is, hands down, the most popular Content Management System (CMS) on the internet today.
Nearly 30% of all websites, from simple blogs to complicated e-commerce stores, use this CMS framework to make their mark online.
As you might guess, WordPress didn't come to dominate the internet by accident. This is a case of the cream rising to the top and staying there.
A combination of a user-friendly interface, the ability to accomplish almost any additional function through third-party plugins, and a thriving user community make it a no-brainer.
When it comes to making your website, our recommended platform continues to be WordPress and WordPress alone. No other option comes close.
But before you go out and build that snazzy new blog, you need a hosting plan or nobody's going to see it but the squirrels looking over your shoulder.
Luckily, we've gone out and tested all the best WordPress hosts hands on for months, and we've gathered a ton of data on which one performs best. You can see the live tracking here. Read more about our 4-step research process here.
We've organized our findings right here including the features you'll want for your WordPress website, so let's get into it.
So, let's dive into it:
1. Siteground: Best WP Host for Small Businesses and Individuals
---
Key Features
A WordPress optimised infrastructure
Recommended by WordPress.org
WordPress auto install and auto updates
WordPress Optimiser Plugin + All Levels of Caching
WP Starter for easy site kick off
WordPress expert support
WordPress focused security
PROS
Great Uptime (99.99%)
Extremely Secure
Extra features (SSL, CDN; E-mail; Automated Backup and Restore; Collaboration Tools, Caching and more)
SiteGround Managed WordPress Hosting Review 📕
Drum roll, please. It's the moment you've been waiting for. Without further ado, we're going to suggest that you consider SiteGround as your WordPress web host. It is, after all, the best WordPress hosting service. SiteGround has offered WordPress managed hosting service since 2003 and hosts over 2,6 million domains.
We've used this service for years with our own clients and continue to do so. Why? Because the price is right and we like them. We like them a lot.

At $3.99 per month, it'll cost you about a dollar more than the deep discounters who will give you a bare-bones plan and then kill you slowly with upgrade charges.
SiteGround offers a ruggedly reliable 99.99% uptime, 24/7 technical support, special focus on security, free SSL, CDN, E-mail, one-click installs, auto-updates, one-click installs, and – for our money – is the best choice for newbies, thanks to a dead-simple dashboard layout.
Finally, we have to mention SiteGround's website tools that their customers adore.
Aside from a plethora of WordPress-specific ones that will improve your website performance drastically, they also offer SG Optimizer which is their in-house built plugin that takes care of all front end optimizations, all-inclusive security plugin,  out-of-the-box caching thanks to their SuperCacher, SuperCacher, regular auto-updates, and Google's most powerful processors for your website hosting.
You can also choose from 6 data centers on 4 continents  (USA, Europe, Asia, Australia), the one that is closest to your clients.
Providing the best hosting for WordPress is not an easy task but SiteGround makes it look effortless. 🥇
2. GreenGeeks: Best Overall WordPress Host + You're Saving the Planet
---
Key Features
99.9% uptime
451 ms
24/7 Live Chat
Single Free Site Transfer
Lots of Features
WordPress, Joomla, PrestaShop, and WHMCS
PROS
Free Domain Name & Website Migration
Environment-Friendly
30-Day Money-Back Guarantee
CONS
Questionable Refund Policy
If you're looking for a fast, safe and scalable WordPress hosting provider that offers excellent 24/7 support, GreenGeeks is the way to go. With simple, one-click WordPress installation, GreenGeeks is one of the most reliable hosting providers on the market — which is exactly why it deserves the #1 spot on our list.
Excellent Security and Uptime 🟢
As a web owner, one of your main concerns should be security. Ideally, you want a host that can offer the security measures required to prevent your website from being hacked or from your personal information from being stolen.
As luck would have it, GreenGeeks gives you peace of mind by offering a variety of tools and services to protect your website (s) including:
☑️ Secure vFS
☑️ Clustered threat analysis
☑️ Proactive server monitoring
☑️ Real-time security scanning
☑️ Hosting account isolation
☑️ Automatic app updates
By offering zero-day vulnerability fixes and custom security rules, GreenGeeks can keep your website (s) secure at all times.
What's more, GreenGeeks actively monitors servers not only to identify problems before they drastically affect customers and their websites but to also help maintain 99.9% uptime. It truly doesn't get any better than that — or does it?
Fantastic Support ☎️
As every top-tier provider should have, GreenGeeks offer expert 24/7 support via live chat, phone, email and support tickets. The professional support team prides itself in responding quickly to customer queries fast, meaning you won't be left without answers.
On top of that, GreenGeeks has an extensive knowledge base full of useful frequently asked questions and answers, so if you ever have a problem, chances are it'll be resolved in a jiffy. They even have a blog covering a wide range of topics including WordPress, Security and the Hosting Industry.
Community Achievements
If you think it couldn't get any better, GreenGeeks is also an official Global Sponsor of WordCamp events across the globe. They have provided support and security to the team of volunteer event organizers by sponsoring all of the official WordPress community events in North, Central and South America (Region A)
Illustrating just how keen GreenGeeks is to get involved with the WordPress community to help refine its WordPress hosting and to satisfy customer needs.
3. HostPapa (70% Off): Awesome WordPress Hosting + Special Discount
---
Key Features
99.97% Uptime
Free Domain
Unlimited Bandwidth
Easy to Use
Vast Knowledge Base
Great Value for Money
PROS
Strong Uptime
Great Support Options
30-Day Money-Back
The number one choice for WordPress hosting may look familiar. HostPapa is our best choice overall for web hosting. With WordPress, we kept it the same for a number of reasons.
HostPapa just provides too much value to ignore. We use the service for our Canadian clients because it is simply the best Canadian hosting service for WordPress. That isn't just for their bare bones service either. It's for their business service. That makes it so Hosting Canada actually qualifies for our cheap hosting list as well.
Hosting Canada readers can receive a massive discount at $2.95 per month.
Get your website started with discounted pricing by clicking on this link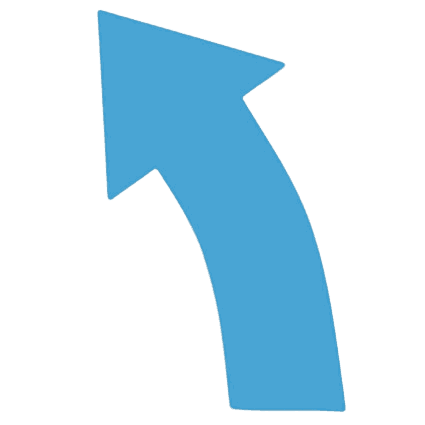 or just sign up here to get your discount with the application. HostPapa also offers a free domain for signups.
Amazing Site Speeds 🚄
HostPapa excels with amazing uptimes and quick site speeds while offering 24/7 customer support via live chat. You won't be waiting half a day like other cheap hosting services because HostPapa isn't normally a cheap hosting service.
If your WordPress ever feels a little slow that could mean a number of things, my first guess would be that the images aren't optimized properly. Consider educating yourself on how to speed up your WordPress
One-click WordPress installation makes HostPapa a no-brainer when it comes to hosting services for WordPress. This is especially true in Canada as HostPapa is Canadian grown with data centers throughout the country.
Most people start off with the cheapest plan available when starting a service. HostPapa is offering its middle tier for the same price as their starter package to Hosting Canada readers (That's right, a free upgrade). Here is what that middle tier gets you with HostPapa.
4. Kinsta: Best WordPress Host… If You Can Afford It
---
Key Features
Loading speed of 307ms
20 servers worldwide
Secure like Fort Knox
Google Cloud Platform
Daily site backups
24/7 Live Support
PROS
99.99% uptime guarantee
Highly automated
If you look up the definition of Premium, you'd probably find Kinsta listed under the examples section. Because Kinsta is without a doubt a premium product, it's quality (and yes, also price) certainly attests to that.
Incredible Security 🔒
Everything about Kinsta is top of the line, the security is by far some of the strongest we've ever seen, and the speed it provides is almost unbelievably fast. The security uses a whole host of the most up to date encryptions and protocols.
What's more, Kinsta actively monitors your site during up times which is, well, pretty much all the time. The Kinsta system is also constantly undergoing updates and patches, always quietly happening in the background, so you'll have little to worry about.
The most innovative feature is it's Google Cloud hosting style. Rather than being hosted in one physical server location, the use of the online cloud servers means your site can make use of Google's numerous server locations. This gives far greater flexibility to your site, allowing it to be quickly and effortlessly optimized to the best locations.
Detailed Website Management 👨‍💼
Kinsta's boasts one of the most sublime site management interfaces. It's intuitive, straightforward and simple, but this doesn't sacrifice the depth of features it offers. Much of the infrastructure is also autonomous, so whilst you have great control over your site, you don't need to worry about all the little niggles.
Fast, secure, and smart, so what's the catch? I think you've already guessed. At $30 a month for the basic (but still outstanding) plan, Kinsta doesn't come cheap. This isn't a Hosting service for small companies that piddle along, this is a service for businesses serious about their growth and with a desperate need for a strong internet presence. Premium quality, premium price.
There's plenty to justify Kinsta's price tag, and with it, your site hosting worries will be a thing of the past.
5. Hostinger: Best Cheap WordPress Host
---
Key Features
Free Domain Name
Very Cheap
Multi-Language Customer Support
30-Day Money-Back Guarantee
Free Site Creator
Designed for Beginners
PROS
Ease of Use
Good Performance
When it came to WordPress hosting, Hostinger decided the hosting offerings on the market could be improved upon. Back in the early days of the company, Hostinger noticed the hosting market was filled with competitors offering extremely similar value propositions in a tight price range.
Low Pricing 🤑
In many cases, the current WordPress hosting options available to you are almost identical from competitor to competitor. When Hostinger decided to jump into the hosting community, rather than doing the same exact thing as the other WordPress hosting companies, it decided to offer a competitive service at a much lower price. This is good news for you, the consumer.
The first time we saw Hostinger, due to the amount of money they charged, we wrote them off as a bad WordPress hosting solution. This was a huge mistake and the thoughts we had couldn't have been further from the truth. Hostinger provides the most value in the WordPress hosting space and it's not even close.
Tons of Freebies 💲
Hostinger's price will fluctuate between $0.99 per month to $2.15 per month semi-regularly – the most affordable WordPress host on this list. You can lock this price for 48 months. That's four years of hosting for under $70 any way you swing it.
The bottom line is if you're looking to save a lot of money when it comes to hosting your WordPress site with great site speed and uptime then look no further than Hostinger. Even with the lowest tier available, you receive a 30-day money-back guarantee, a free domain, and a free SSL.
6. WPX Hosting: Expensive but Worth Every Cent
---
Key Features
Great Customer Service
Fast Loading Time
Daily Backups
Migration Service
Straightforward Management Dashboard
Friendly Interface Design
PROS
Fast and effective support
Enterprise level DDoS protection
Malware scanning and cleanup
WPX Hosting Best Wordpress Hosting Review 📚
WPX Hosting would probably be higher up on our list if it was less expensive.
Starting at $20.83 per month with annual pricing and coming in at $25 per month if paid monthly, it's one of the most expensive web hosts out there. However, their services are really stellar, and the customer reviews confirm that fact.

If you have an enormous budget and are planning to keep a huge number of websites up for a very long time, this might be the choice for you. WPX Hosting offers high speed, live support 24/7, and the downtimes are almost non-existent.
7. WP Engine: Fast. Reliable. Expensive.
---
Key Features
Free SSL
Plenty of performance tracking and diagnostic tools
24/7 access to dedicated help
Free CDN Service
Very Fast
Consistent Performance
PROS
Well-optimized
Easy to Use
CONS
Won't fit into everyone's budget
Taking the third place on our list of best WordPress hosting services, we have WP Engine. It has excellent uptime, 24/7 support that is top-notch, and daily back-ups. If you want to spend as much money as possible on an excellent service – this is the best choice for you.
Big Boys Only 🎡
As you can see from the pricing plan below, WP Engine is a great option for enterprises, huge companies, and other big wordpress clients.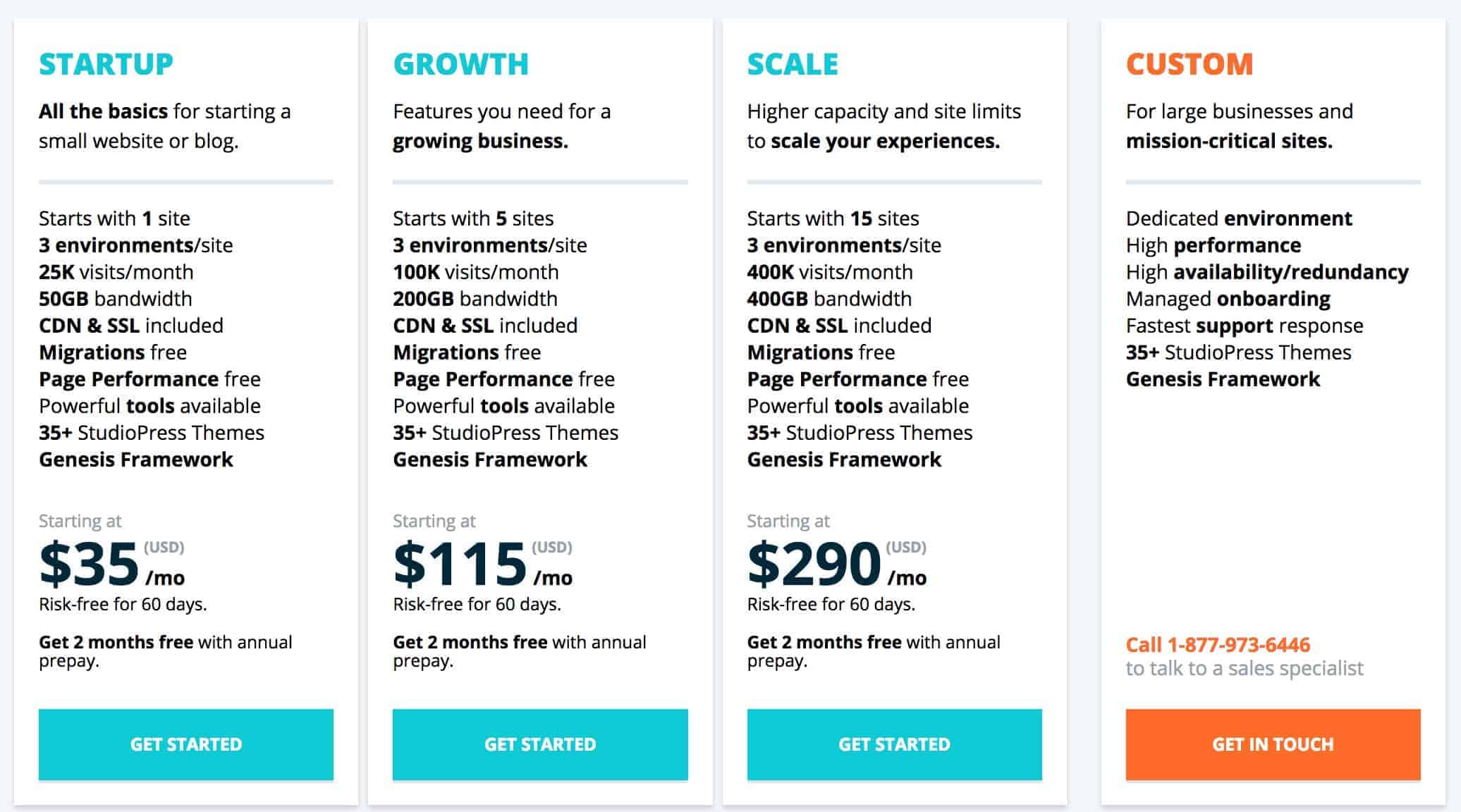 In all seriousness, the quality of WP Engine couldn't be higher.
8. A2 Hosting: High Speed and Low Load Times
---
Key Features
Unmetered storage
Unmetered bandwidth
Advanced features
Great uptime
Excellent Loading Times
eCommerce Support
A2 Hosting is our next choice, and it's very similar to our top pick. A2 Hosting comes with all the bells and whistles while jumping out with a monthly price of $3.92.
Turbo 🚀
Even though it's that cheap, A2 Hosting offers a reliable service with low downtimes and latency. If you opt for the Turbo deal, which costs $9.31/month, your plans become unlimited and your speed a priority for their servers.
This makes A2 Hosting a fantastic option for those looking to only build a few websites, but keep them in high regard.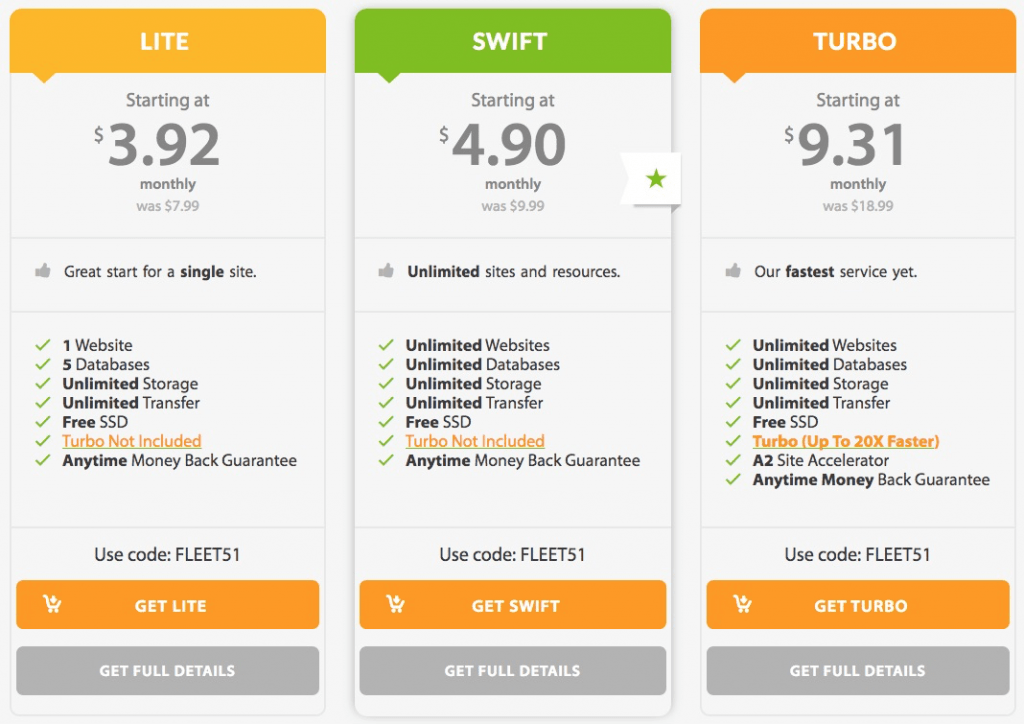 A2 Hosting offers great support and uptime number at 99.91%. Whether you're in Vancouver or Toronto, you'll as be pleased as we are with the company's performance.
9. Bluehost: The Best Beginner Choice
---
Key Features
491ms response time
More than two decades of experiences
99% guaranteed uptime
Budget pricing
Great for small and medium sites
Stunning Features
PROS
Excellent customer support
Bluehost Best Wordpress Hosting Review 📘
Just about everyone – including your grandpa who does nothing more than play bingo online – has heard of Bluehost. Not the fastest, nor the most reliable, nor the cheapest hosting service out there (almost…). But, the most popular one and more of a jack of all trades type of host.
Recommended by WordPress itself, Bluehost has been around since right around forever. It's speed is very good, it's uptime is above 99.5%, and it's dirt-cheap. Even their most expensive plan costs less than the lowest option of some hosts, WPX Hosting, for example.
After reviewing 'ole BH for some 14-odd months, we're inclined to agree with WordPress: it's a great hosting service for small businesses and new bloggers.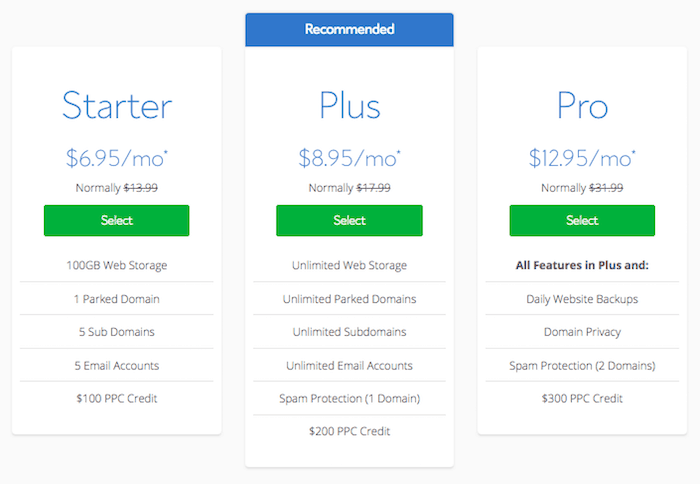 If you're looking for a WordPress web hosting service that is friendly to beginners, offers a lot of features that newbies can enjoy, and won't strain your budget – we recommend Bluehost as your WordPress hosting service.
WordPress Hosting Buying Guide
---
One of the first things you'll notice about different web hosting companies is that prices range from less than a dollar a month for deep-discount shared hosting all the way up to $100 or more for a dedicated package.
It would be smart to have a sense in advance of how much you'll need in the way of hosting space and processing speed before deciding on a package. There's a big difference between what you need for a personal blog or small business website, and those of a full-blown e-commerce store or streaming media intensive website. High traffic sites are going to need more resources than others.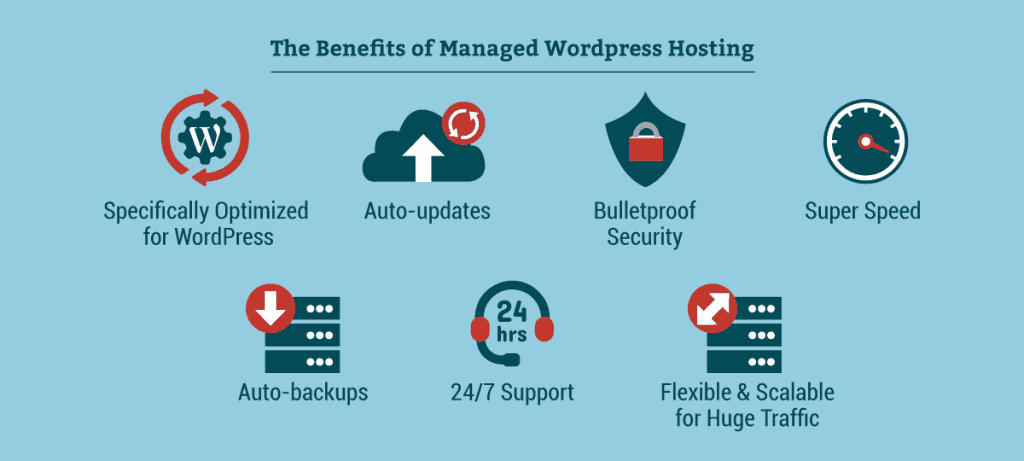 The good news is you can start small with a cheaper plan and scale up into a more robust one as your needs increase. Unless you plan to have 6,000 or more monthly web visits from the start, there's no need to start out with either a VPS or dedicated hosting plan.
Entry-level web hosting plans are typically of the shared variety, which means that the server's resources are shared among many clients through the use of a single IP address.
There's nothing intrinsically wrong with this idea. It's meant for low-resource need websites and allows the host to charge less per month because it's more of a communal resource. The problem is there are some serious security risks.
Features to Look Out For:
But before you sign up with the dead dog lowest monthly web hosting you can find, you should realize that there are certain features that make some hosts better than others when it comes to a WordPress website.
Here are the most important things to consider when choosing a WordPress host:
You need SSL included in order to take payments
Can you migrate a website to or from the host?
Are free backups included?
High uptime guarantee – should be over 99%
Where are the datacenters located?
24/7 customer service and technical support
Easy WordPress installation
Enhanced security
The web host companies we recommend to use with a WordPress site cover most of these elements and throw in a few more for kicks.
Let's dig in for a moment and make sure you understand what each of these features mean before we go on. (Don't worry. It'll be painless and some day you'll be glad you took the time.
Secure Socket Layers (SSL) Protection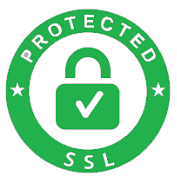 While no credible web host would deny the need to have SSL installed along with your website, the deep discounters (less than a buck a month), tend to want to charge you $60 to $80 a year for the protection.
You should always choose a host who offers it for free. Don't worry. They're out there.
The reality is that SSL is now considered a standard level of security for all websites. Anyone who tries to tell you it's a snazzy new upgrade is full of baloney. In the early days of the internet, it was created to increase security for online payments.
You've probably seen the green lock symbol at the top of a web page or the word "secure" in front of the URL. That's SSL technology in action. It creates a sort of tunnel between the person making a payment and the credit or debit card processor and protects all the information that passes between them, which is a good thing.
The idea of SSL has become so ubiquitous these days that Google will rank your site more highly in the search results if you use SSL. That in itself should be enough to convince you how critical it is.
Like we said, though, there's no need to pay for this when so many web hosts give them to you for free. Seriously. Don't even think of going without SSL but don't waste your money paying for it.
You'll Probably Need to Migrate Eventually
No, this doesn't mean you'll have to pull up roots and move yourself to a different country for the sake of your website…
You're fine where you are, but sometimes there you'll need to relocate your website from one host to another (or to even on the same host but mapped to a different domain.)
It's not necessarily an onerous task, but can be annoying and seem overly technical if you've never done it before. Basically, it's just a matter of compressing all your files/media/plugins/settings and transferring them by FTP to the new location.
When it comes time to migrate a website, you'll want to be able to do it at no additional charge plus be able to ask for and receive technical help if you run into problems. Some hosts (like SiteGround, our preferred web host) are glad to help with the process; others are inclined to charge extra for the service. Obviously, we think the former is better.
Free Backups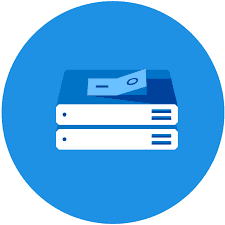 In the digital world, backing up your website should be as second nature as putting on your clothes in the morning – you are doing that still, aren't you?
The bottom line is that you should never, ever trust the internet not to reach out and capriciously blast your website into cyber oblivion never to be heard from again. You need a regular backup program, and it should be free.
There are plenty of WordPress plugins that can do this automatically behind the scenes with no further action from you than to set it up in the first place.
A good web host will offer free backups and all of top recommended hosts do. 
A not-so-good one will use it as an upsell to your hosting plan. Generally, upsells are annoying and an obvious money grab. We don't like them. :(:(
Uptime Vs. Downtime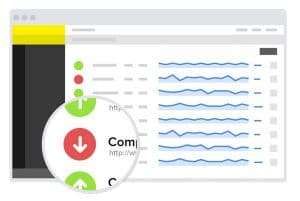 Uptime refers to those times when your website is online and accessible to anyone. Downtime means it's unavailable due to an error or malfunction on the part of the people running the server – namely, your web host.
If you have 100% uptime, it means your website never goes down.
That would be nice… but probably isn't realistic. In the world of actual server performance, due to system redundancies and quality control, a decent web host should be able to achieve 99% uptime at the least.
The closer they can get to 99.9% the better.
Where in the World is Your Datacenter?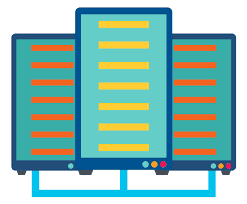 The datacenter associated with your hosting package is where the physical server sits. Since all your web files are located on the server, it should make sense that you should choose one closest to you.
The speed, reliability, and uptime of your website will thank you later.
While it might seem that physical distance shouldn't make a difference on the internet, the reality is that it does. When data has to flow back and forth from a server halfway around the world, there will be a small but noticeable lag in accessing your website.
While this might not be a make-or-break issue, a web host with data centers in diverse locations would be a point in their favor.
Additional Security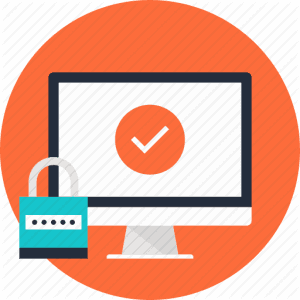 There are ways a good web host can help keep your website secure from hackers and other ne'er do-wells. First, they should require that you always use a complex password.
If you're still going with some variation of "password1234," let us be the first to tell you that you're going to get hacked and probably sooner rather than later.
There are programs that sit out there and try to get into your website through brute force, generating millions of possible password combinations until it eventually hits the right one.
A high-quality web host monitors all client websites for hacking attempts and will notify you in the event that happens. This attention to extra security becomes even more critical if you take payments for digital or physical goods or services.
You don't want to be the next vendor who allows criminals to access a customer's private information.
Excellent Multi-Channel Support
A list of questions and answers parked on an FAQ page somewhere doesn't count as customer support. Accurate, timely customer service and technical support is a big deal to us when it comes to choosing a web host and it should be to you as well.
A real support staff consists of employees who know the systems and can resolve problems via phone, e-mail, or chat.
These days, too many companies still outsource this critical feature to call centers in India or the Philippines.
We've got nothing against that fine country but have a big problem with outsourcing this task. You should be able to pick up the phone and talk to a live company employee within a reasonable period of time. End of story.
One-Click Installation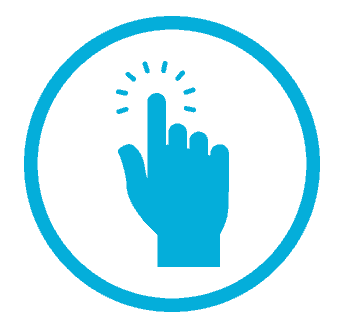 Most credible hosts have simplified the process of installing WordPress to the point that literally anyone with an IQ above that of a tomato should be able to accomplish this.
No offense to any tomatoes reading this. 
Look for an app in your hosting plan dashboard called Softalicious. One – or a few – clicks and you're done. And in the event you are a tomato head and need help, the support staff should be happy to complete the installation without poking fun at you.
The bottom line is that putting a WordPress installation on your domain should be easy as pie.
WordPress Hosting: FAQ
---
Do You Need a Hosting Site for WordPress?
There is the option to host on WordPress.com – however it is usually better to go with a third-party host site as it is cheaper and provides higher value in most cases.
Can I Host a WordPress Site Anywhere?
Not anywhere – but all of the top hosting services. Using a top hosting service usually allows you to use WordPress for free.
What is the Difference Between WordPress.com and WordPress.org?
WordPress.org is a platform that is self-hosted on a hosting platform chosen beforehand to create and manage a website. This is the version that is covered in this article. WordPress.com is similar but is hosted for you and designed like a website builder for ease of use.
Which Hosting is Best for WordPress? Linux or Windows?
All it means is which operating system is running on the servers the company is using. Linux is the most popular on servers so it has more features and most web designers prefer Linux-based web hosting. The only time Windows would make sense is if there are specific Windows applications that need to be used.
Does WordPress Have its Own Hosting?
It does offer its own hosting at WordPress.com but we suggest utilizing WordPress.org and using a third-party hosting service.
Best WordPress Hosting? Let's Recap
---
In the final analysis, you can't go wrong with either of these options. If you absolutely can't make a choice, flip a coin, you indecisive little weenie. There's no wrong answer here.
For more information about choosing the best web host – WordPress or otherwise – have a look at our guide to the best web hosting in Canada. We spent the last 17 months buying, testing, and reviewing every major Canadian web host… and then compiled the results (so you don't have to).
References and image credits:
Redy.host
TheHostingGuy.com
Smartherd.com
TipsAndTricks-HQ.com
WhatIsSSLCertificate.com
itcspanama.com