Disclosure: Hosting Canada is community-supported. We may earn a commission when you make a purchase through one of our links.
Learn more.
Kinsta Review
Kinsta is a premium web host. When I think of premium anything I usually want it over whatever dirty old standard thing is available. If I know there is a premium version out there, I scoff at the alternative.
In the world of hosting, most people don't need the premium version.
That's probably the case in most situations concerning premium services.

Visit Kinsta
---
Standard hosting services really get the job done, especially for people just starting out with their website.  That isn't to say premium hosting doesn't have its place. There are a whole host of benefits to services like Kinsta.
The great thing is that Kinsta is the best of the premium hosting options out there and I'd love to tell you why.
TLDR;
Kinsta is in the premium category of WordPress hosting. If you decide you want to fork up the extra cash to use Kinsta, you won't be disappointed. Just know that you will be spending a lot of money. 
It is important to keep in mind that cheaper hosting services can provide you with what you need without spending a lot of money. If you need a premium managed hosting service, Kinsta is a great choice.
---
Overview of Kinsta
---
What makes a hosting service premium?
On any standard hosting platform there will be negatives associated with it. The site speed might not be perfect or installing an SSL might be a big pain. The whole point of these premium services is to take away any pain point.
The way they do this is by charging more so they can have the best infrastructure possible.
Kinsta itself was created by WordPress developers. This is a good sign as it was created by people who actually wanted to use the service. In 2013, their goal was to create the best WordPress hosting platform on the market.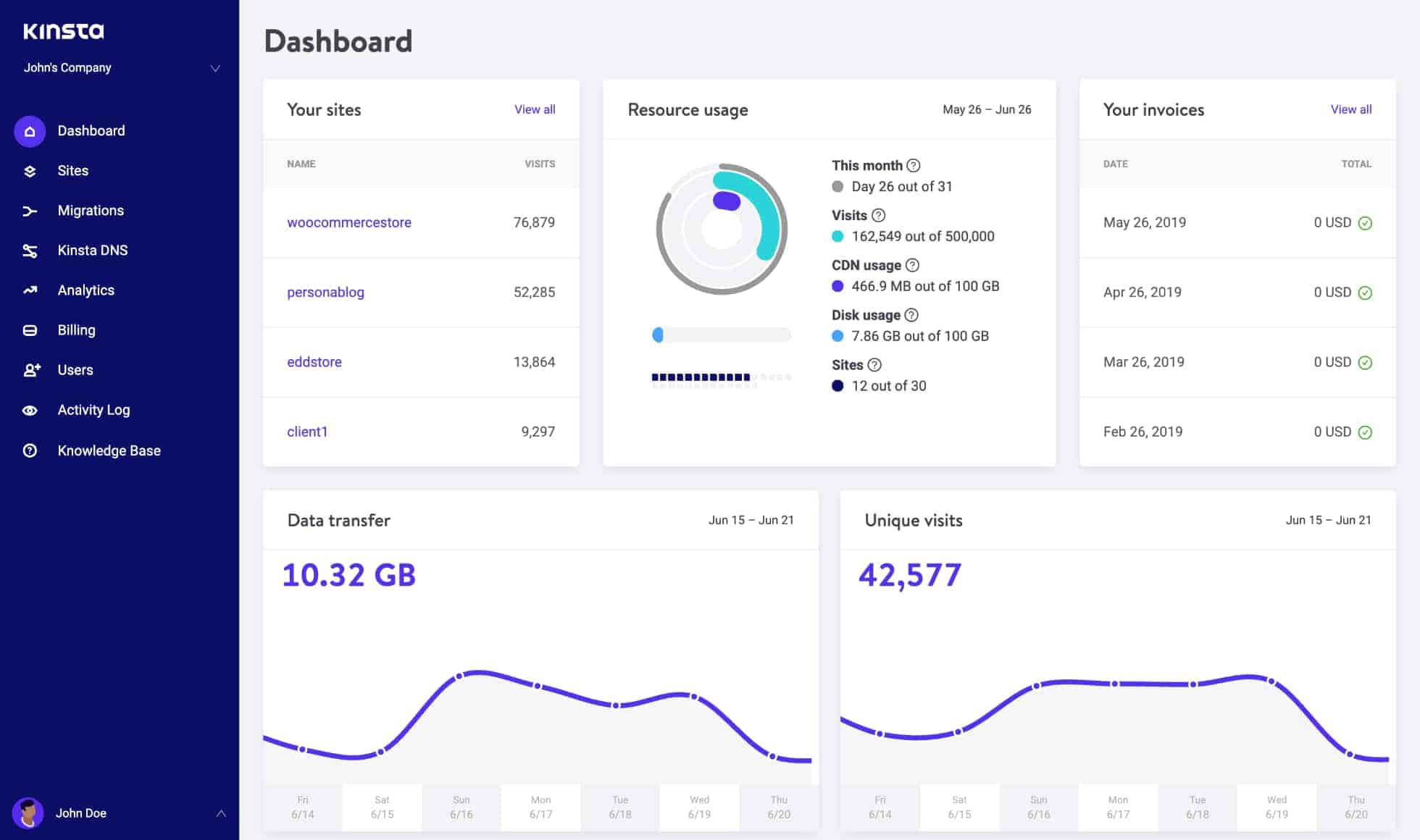 The creators realized that there are a lot of hosting services offering the same type of service.
Rather than charging a low dollar amount, they decided to build a hosting service built on new technology that is completely focused on speed, security, and stability.
The way they have done this is by building on the Google Cloud Platform while utilizing the latest technology and pairing it with overkill security checks and over the top customer support.
PROS

High-level of customer support
Secure network
Daily backups
Fast Speeds
Reliable uptime
Premium features

CONS

 New dashboard so no cPanel or Plesk
Expensive
Specializes only in WordPress
---
Kinsta Uptime
---
Kinsta servers are strategically placed and manned by the Google Cloud Platform, which means they are super fast. For the price you'll be paying for Kinsta, you better be receiving absurd speeds. Luckily, Kinsta delivers.
Let's dive into my favorite part, the actual numbers.
All of our tests were run within Canada to help get an accurate mix of results across the country. Throughout the test we used the Montréal server for Montréal and Toronto and the Iowa server for Vancouver and Winnipeg.
To get started, check out the results below from our four testing locations.
Montreal

Uptime –

99.98%


Load Time –

409ms

Toronto

Uptime –

99.98%


Load Time –

468ms

Vancouver

Uptime –

99.97%


Load Time –

416ms

Winnipeg

Uptime –

99.97%


Load Time –

501ms
So, what do these numbers actually mean?
Well, first it's important to understand the terminology. When we talk about uptime on hostingcanada.org, it refers to a measure of how consistent the hosting provider's services are.
The statistic is presented as a percentage to indicate the overall time that the hosting provider is online and functioning normally.
For example, Kinsta has performed with 99.98% uptime from Montreal testing locations. This means that in all of the data we've collected in our testing, Kinsta's services were down for only .02% percent of the time for Montreal users.
The math equates to less than 2 hours of downtime over the course of a year – almost nothing.
When gauging uptime performance, even a fraction of a percentage point can make a significant difference to your website's availability. We consider uptime metrics of over 98% to be strong, with anything below that classified as poor.
Kinsta with 99.9%+ Uptimes
The very best hosting companies guarantee 99% uptime or else will refund you some of your payments if that expectation is not met. Kinsta is one of those companies that provides such a guarantee.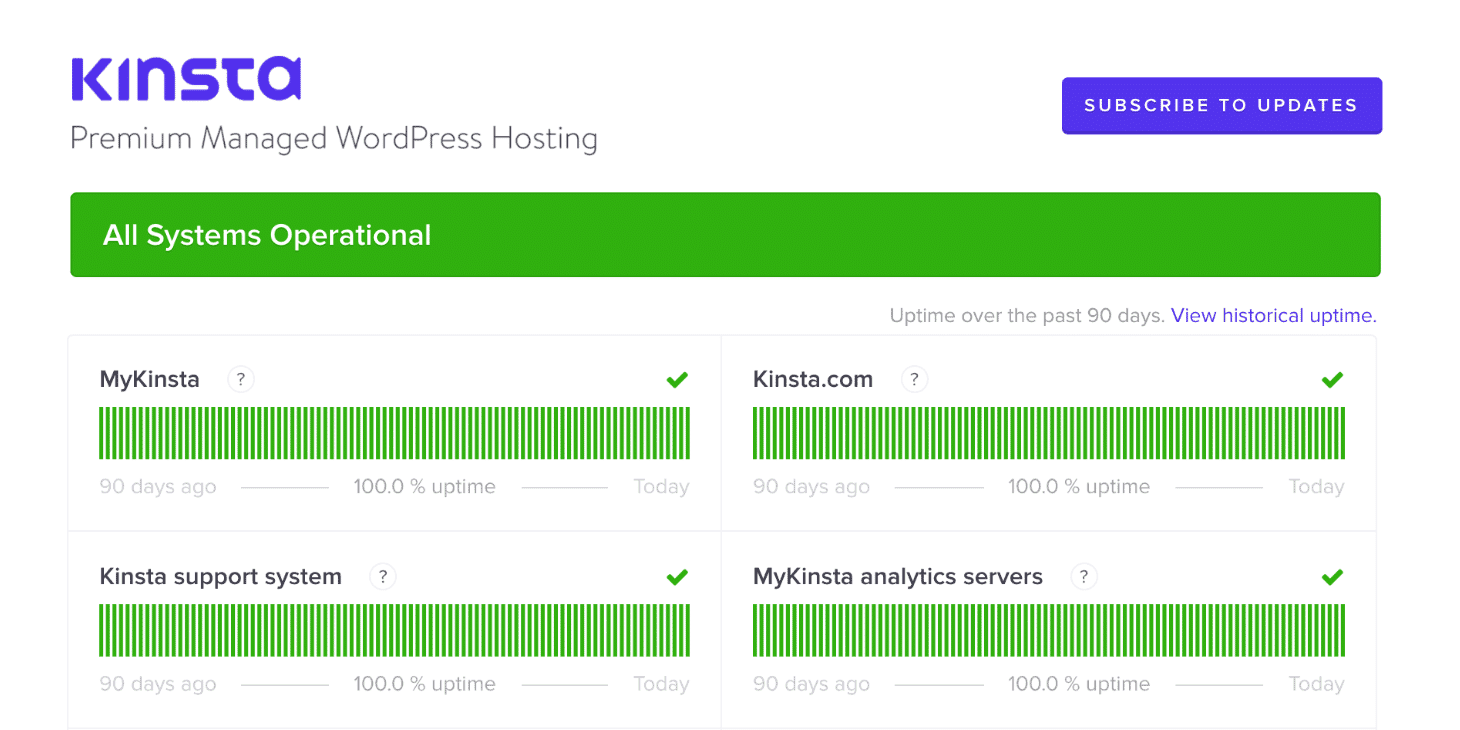 Now in switching gears to load times, our focus shifts from overall availability to actual speed measurements.
The numbers compiled by Hosting Canada are an average over months of testing with Kinsta's platform with various browsers like Google Chrome, Mozilla Firefox, and Microsoft Internet Explorer.
Times provided above are measured in milliseconds and cover the length of a full request and response to a cloud web server.
Keep in mind that your website's end users may seem some variation in response times due to a variety of factors, including local network speed, browser behavior, and server traffic.
Overall, Kinsta's load time speeds performed well above average when compared to other common providers available in Canada. We do tend to have faster internet speed than most.
Load times that average at 2,000 milliseconds or less are considered to be high performance, as it means the end user will face very little delay when loading the webpage. Hosting providers with slower response times are risky to use.
Your readers and customers may get annoyed with the delays and choose to browse other sites instead.
Kinsta blows these times out of the water and truly provides a premium experience.
---
Servers

---
Kinsta uses Google Cloud and more specifically the multi-region version of their service. That means that Kinsta users have access to 22 regions where data centers are located.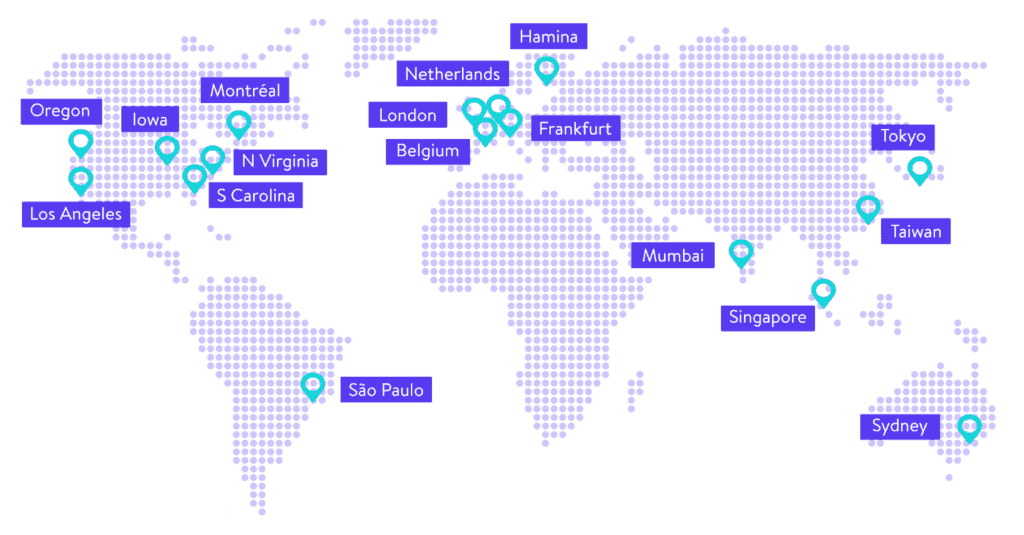 As a Canadian, there are multiple servers that might make sense for your company such as Montréal and Iowa.
If you decide to use Kinsta then are the following cities you can select for your data center:
 

Council Bluffs, Iowa, USA


St. Ghislain, Belgium


 

Changhua County, Taiwan


 

Sydney, Australia


 

The Dalles, Oregon, USA


Ashburn, Virginia, USA


Moncks Corner, South Carolina, USA


São Paulo, Brazil


London, UK


Frankfurt, Germany

Jurong West, Singapore


Tokyo, Japan


Mumbai, India


Montréal, Canada


Netherlands


Hamina, Finland


Los Angeles, California


Hong Kong


Zürich, Switzerland


Osaka, Japan
---
Security and Monitoring

---
Security is obviously a big concern when managing a website. There are a lot of ways to secure your WordPress website.
You can use plugins or implement your own manual procedure but the best way to manage WordPress security is to have someone else do the bulk of the work for you.
Who should use it
Kinsta implements a high-security network that basically does everything a WordPress security plugin would do for you.
Part of the value-add in a premium hosting service is that they make your website extremely secure. Specifically, Kinsta implements DDoS attack detection, software-based restrictions, SSL support, and firewalls.
Not only that, if for some reason an attack takes your website offline and deletes everything, you have nothing to fear.
Kinsta has a daily backup policy which means that no matter what, you can get yesterday's version of your website up and running immediately.
If your website attacker times their attack right, you might even be able to get today's version of your website back.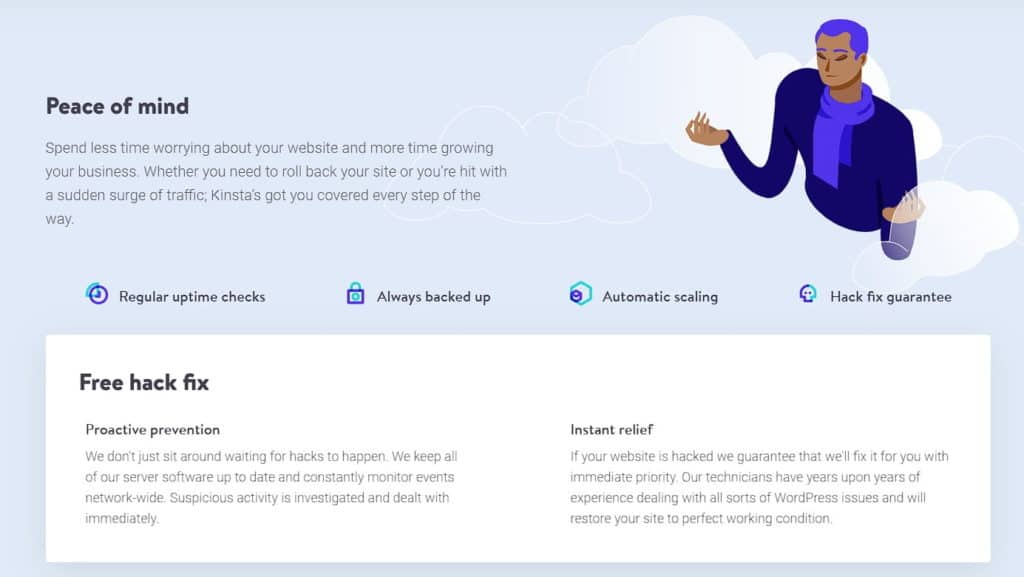 Kinsta uses separate backup environments for your live website and your staging environment so you won't lose any of your new progress either.
If having a daily backup isn't your thing, you can pay Kinsta more to update your website as often as possible.
If you're a paranoid person who needs your site backed up every hour, Kinsta won't judge you, they'll take a few extra bucks and back your site up every hour.
Kinsta is proactive in the prevention of hacks as they keep all of their server software up to date and have a hefty monitoring policy, which we will get into next.
If you do get hacked, Kinsta has a guarantee that you will be taken care of with immediate priority. Their WordPress experts promise to get your website back up and running in no time.
Pricing and Features
Have you ever purchased a service and included in that service is way more than you actually need? Like if you purchase rink-side seats to a Maple Leaf's game and included in the ticket price is a massage whenever you want it.

Don't get me wrong, a massage would be nice. However, it isn't necessary. You'd be happy with just watching the game. Kinsta's version of a hockey game massage is their monitoring policy. It is definitely overkill but still appreciated.

The hosting service checks your website every two minutes.
Yes, every two minutes. That means that Kinsta checks your website 720 times per day. Seems a bit much to me, but what do I know.
If anything goes wrong, they look into it immediately and fix it. That could literally happen before you even realize anything is wrong. Kinsta does the same with all of their hardware and systems as well.
---
Customer Support

---
Kinsta truly takes web hosting customer support to the next level. The company isn't satisfied with just helping you make sure you're doing everything right in terms of hosting.
The customer support will even help you with your WordPress website. It is a WordPress web hosting service after all.
Who should use it
Kinsta is there to actually help you with your WordPress site. Since the service is set up as a WordPress hosting service, the customer support knows all about WordPress and can fix WordPress issues for you.
They'll help you with troubleshooting, server maintenance, themes, plugins, and general maintenance. Using Kinsta as a hosting service gets you a WordPress expert on your team right away.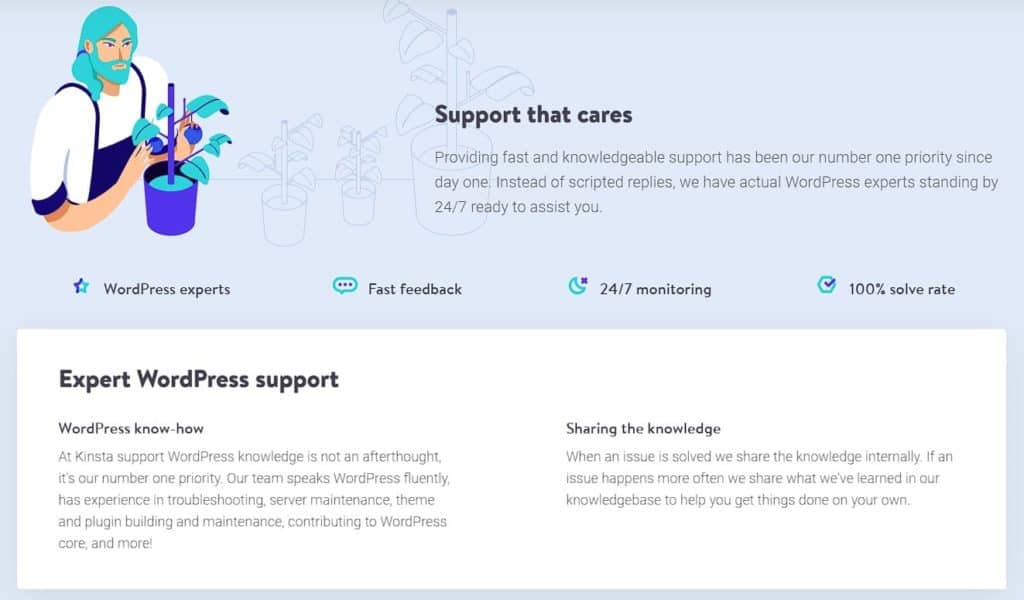 Kinsta's website even has a whole section devoted to teaching WordPress.
Knowledge Base
I personally hate using customer support at a company as the information I need is generally out there already. I'm a sucker for a knowledge base and Kinsta delivers.
They have countless helpful articles that should cover most basic issues.
It looks as if Kinsta's policy is to log all issues and if one occurs more than a couple of times, they create a knowledge base article about it.
24/7 Support
Kinsta has 24/7 customer support which is fantastic for international customers and people who like to work late into the night.
The support is available through chat and email and is powered through intercom, the best customer support software on the market today and allows multiple people to access your customer support issue.
---
Features

---
You should expect to receive a bunch of features from a premium service like Kinsta. Luckily, Kinsta doesn't hold back and gives you everything you could want.
If Kinsta doesn't currently have what you want, their website tells us to contact them so the service can work on getting it. I don't know of another hosting service that offers that.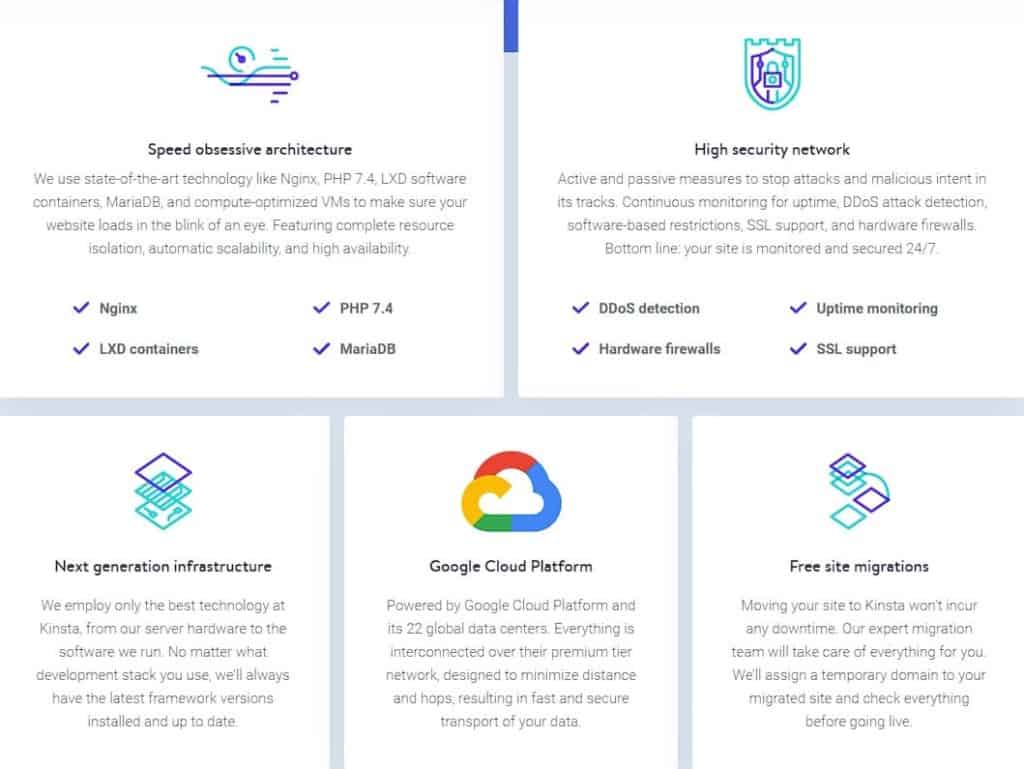 Architecture
This is what drives the whole boat. Kinsta uses the latest technology to ensure you have the fast load times we talked about earlier.
The way this is accomplished is by focusing on utilizing the best technology, resource isolation, automatic scalability, and availability.
For the technology buffs out there, the technology Kinsta utilizes within their architecture is Nginx, PHP 7.4, LXD software containers, and MariaDB.
Google Cloud
The Google Cloud platform is the best and fastest platform a hosting service can use. With 22 data centers across the world, everything is connected and designed to make sure no one using it is far away.
This results in much faster speeds and allows any Kinsta customer to increase their power whenever they want.
Other Features
Kinsta has other features such as free site migrations if you are coming over from another host, traffic surge readiness, site management tools, staging servers, site cloning, site analytics, proprietary dashboard, test environments, development sites, advanced developer support, multiple PHP versions, Cloudflare Railgun, Elasticsearch, Redis, scale visits, CDN, and Nginx reverse proxy.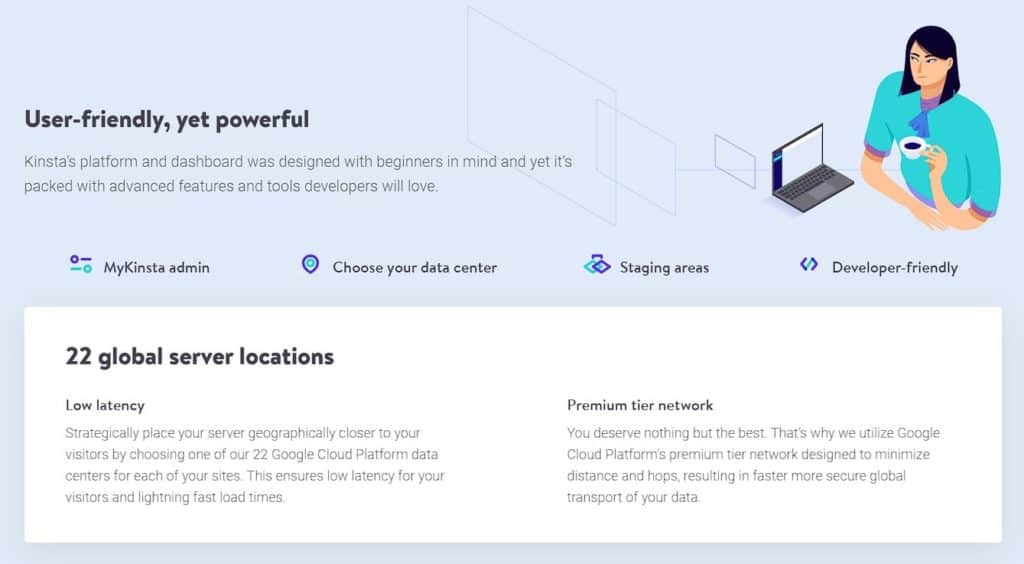 One more thing, if you don't see what you need on the dashboard, Kinsta encourages contacting the support team to request what you need.
We haven't tested this out but it seems like they'll get right on whatever you need based on how other customer support tests have gone.
---
Types of Hosting
---
Kinsta doesn't offer shared hosting or VPS hosting. It offers its own type of hosting that doesn't currently have a label.
Rather than offering a dedicated server or VPS hosting options, Kinsta offers its starter and pro options and has a business and enterprise category.
The starter option is perfect for someone with one website whereas the pro version is for someone who has one or two websites but needs a little extra juice.
It's easy to tell which plan you will need as Kinsta lays it out with easy metrics to match your needs to such as number of WordPress installs and total monthly traffic.
Once you jump into the business and enterprise categories the best way to identify what you need is by matching it up to that. If you're an agency or enterprise that has greater needs than what is offered, all you have to do is contact the company.
---
Pricing Plans
---
Every plan from Kinsta includes the following:
30-day money back guarantee


Free basic migrations from other hosts


Google Cloud Platform


All of their servers


Automatic Daily Backups


14 days of backup retention


24/7 support

Multi-User environment


Staging area


SSL certificate


PHP 7 support


SSH access


White-labeled cache
Every plan besides the starter plan also includes site cloning and multi-site support. The various plans are shown in the table below.
The best way to identify what you might need is by how many websites you will be utilizing and how many monthly visits you will be receiving.
| Type of Plan | Price Per Month | # of WordPress Installs | Monthly Visits | SSD Storage | # of Premium Migrations | CDN |
| --- | --- | --- | --- | --- | --- | --- |
| Starter | $30 | 1 | 20,000 | 10 GB | 1 | 50 GB |
| Pro | $60 | 2 | 40,000 | 20 GB | 2 | 100 GB |
| Business 1 | $100 | 5 | 100,000 | 30 GB | 3 | 200 GB |
| Business 2 | $200 | 10 | 250,000 | 40 GB | 3 | 300 GB |
| Business 3 | $300 | 20 | 400,000 | 50 GB | 3 | 500 GB |
| Business 4 | $400 | 40 | 600,000 | 60 GB | 4 | 500 GB |
| Enterprise 1 | $600 | 60 | 1,000,000 | 100 GB | 5 | 1000 GB |
| Enterprise 2 | $900 | 80 | 1,500,000 | 150 GB | 5 | 1000 GB |
| Enterprise 3 | $1200 | 120 | 2,000,000 | 200 GB | 5 | 1000 GB |
| Enterprise 4 | $1,500 | 150 | 3,000,000 | 250 GB | 5 | 1000 GB |
---
Wrapping it Up

---
Kinsta is probably considered up there as one of the best consumer WordPress hosting solutions on the market today. We don't have Kinsta ranked number one because most people don't need the best consumer WordPress hosting solution on the market. 
The service was built as a premium product and most people, especially when just starting out, just need to get their website live.
For those that do need the best consumer WordPress hosting solution on the market, we highly recommend using Kinsta. If you need the fastest speeds, the best uptime, Fort Knox-esque security, and WordPress experts on call, you should use Kinsta. 
If you've built your website up and are now getting a lot of traffic, we suggest looking into switching over to Kinsta as well.
---
FAQs
---
What is managed WordPress hosting?
Managed WordPress hosting is a service where all the technical aspects of hosting your WordPress site are taken care of.
The host makes sure to manage security, speed, updates, backups, uptime, and scalability.
It also means that the customer support is fantastic. Using managed WordPress hosting takes a lot of the technical responsibility off of a website owner's shoulders.
Is Kinsta shared hosting?
Kinsta is not shared hosting. The company kind of created its own category. If we had to define it, we would call it Google Cloud container hosting. The company using Google Cloud and runs each domain on its own software container via Linux.
What is the difference between a host and a domain?
A domain is your web address. This is how people know where to find your actual website. They type it into a web browser which acts as an internet GPS.
Your address needs somewhere to set up shop so your web host provides the internet land to slap your address on. In this scenario, your actual website would be your internet house.
You May Also Like:
We do our best to independently research products to better help our readers make decisions. That being said, we also want to hear your opinions. We accept individual reviews that are informative and non promotional. Please fill the form below and we'll publish your review. Promotional reviews by companies themselves will not be published. Thanks!
Add your own review:
[schema_rating]