Disclosure: Hosting Canada is community-supported. We may earn a commission when you make a purchase through one of our links.
Learn more.
3 Best Reseller Hosting Companies for Canadians in 2022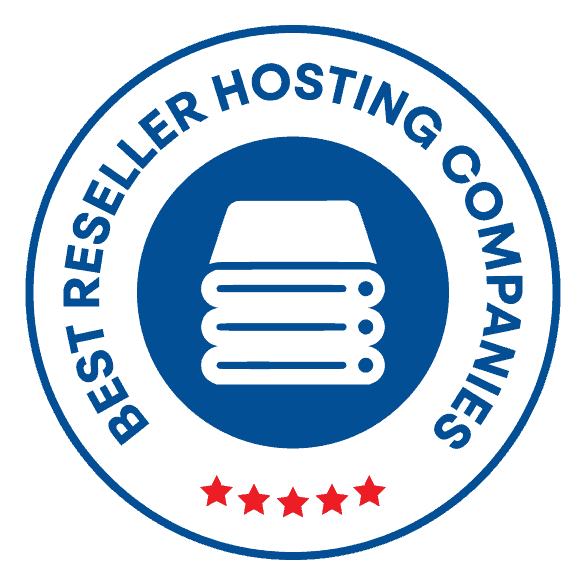 Do you run a website development or design agency?
Are you looking to earn an additional $1,000+/month doing (almost) no work whatsoever?
If so, then you'll want to listen up.
No, I'm not talking about some sort of sleazy MLM scheme that will require a $2,000 upfront investment and result in the inevitable alienation of everyone that you hold dear (at least… everyone who doesn't want to buy your crap).
I'm talking about reseller hosting.
And it might just be the coolest thing since sliced bread (although I'm still confused as to why that's supposed to be cool… it's just bread?)
What is Reseller Hosting and Why Should I Care?
---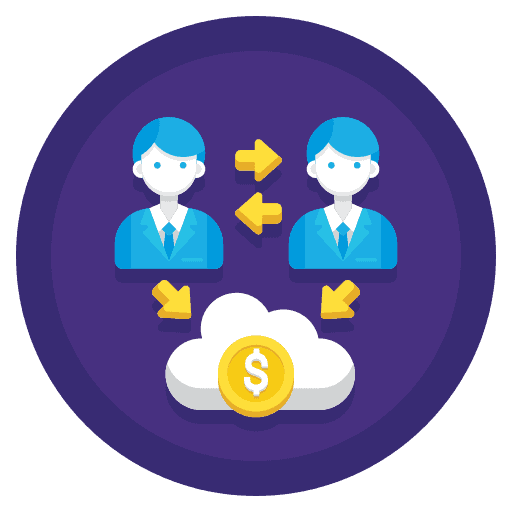 Reseller hosting is a relatively simple concept that can generate a significant amount of income for your digital agency with nominal effort.
Let's say that you currently have a roster of 100 small website clients who all want fast, reliable, and easy-to-use web hosting services.
Since they already know, like, and trust you because you (hopefully) helped them design a stunning and intuitive website, they'll naturally be more inclined to purchase their hosting through instead of using a mainstream host.
So, you head over to one of the resellers we about to recommend and you purchase a reseller hosting package that gives you access to 600 GB of bandwidth and an unlimited number of domains for only $20/month.
You can then go and offer your hosting services at a reasonable price of, say, $10/month (assuming the website in question uses only 6 GB of bandwidth), earning you a total net profit of $980/month for doing… well almost nothing.
Pretty cool, right?
We think so.
And to help you begin your foray into the world of generating passive income through reseller hosting, we've compiled this quick guide to help you determine exactly what you should look for in a reseller provider as well as our top 4 recommendations for the top reseller hosts.
Let's dive in.
Getting Started
TL;DR. If you want to get started with the most affordable package that will still provide reliable uptimes and load speeds (and plenty of extra goodies) then you'll want to use SiteGround
When it comes to reseller hosting, SiteGround offers an 40 GB of disk space, Unlimited bandwidth, Enhanced security, Staging, White-label, Priority support for only $10.69/month (for the duration of the introductory offer).
If you want all of the juicy details behind this recommendation or prefer to use a different hosting service… Then just keep reading (what else are you going to do? Look at cat gifs)
Anyways… Back to business.
Why Should You Trust Us?
---
Well…
We've been reselling hosting services to our own clients (more than 900 of them) for more than a decade and have a very vested interest in finding the most affordable and reliable resellers on the market.
But that's not all.
During our decade long tenure as top tier website developers, we've had unique access to an abundance of data that simply isn't available to the general public. You can see the live tracking here. Read more about our 4-step research process here.
We've been recording uptimes, load speeds, customer service interactions, and more for the better part of 9 years and we've had our own #geniuses compile and share that data here so that we can provide you with the most unbiased and accurate information possible.
Besides, we're Canadians. 
The Top 3 Hosting Resellers in Canada
---
All reseller hosting providers are not created equally, and the fastest way to irrevocably piss off your existing client base and lose their trust forever is to opt for the cheapest reseller you can find to maximize your profits.
What to Look for in a Reseller Web Host
In the world of reseller and shared web hosting, the words "cheap" and "crap" are pretty much synonymous... which is why you should steer clear of self-described "free" hosting sites at all cost. Although you want to make sure that your selected provider is affordable, you'll also want to ensure that they meet the following criteria.
Reliable Uptimes
There's no sense in operating a website if the website in question isn't online long enough for potential customers to actually access any of your content.
You'll want to be sure that any reseller host that you select offers guaranteed uptimes of at least 99% so that you don't receive 127 phone calls at 2 a.m. from disgruntled client's whose websites are no longer operational.
Fast Load Times
Considering that the average user will wait only 3-seconds for a website to load before abandoning their search and using a different resource, your website (and your client's websites) speed matters. And it matters a lot.
A good rule of thumb is that you want any reseller hosting service to provide load times under 1,000 Ms (although the services we recommend are much faster than this).
Great Customer Support
If you operate one website, the odds of encountering some issue or hiccup that requires assistance from a customer support representative hover at around 100% (closer to 114.2% if we're being exact 🤓). If you're reselling dozens or even hundreds of hosting packages, those odds go up exponentially.
Before you invest in any reseller hosting package, you'll want to make sure that they have effective 24/7 live customer support to help you out in the inevitable event that something goes wrong.
Customizability
Every client and customer that you currently serve will have unique web hosting needs. Some of them will need more bandwidth than others and some will require special features and security protocols that aren't standard for most hosting services.
As such, it's essential that the reseller hosting provider you choose has a high degree of customizability so that you can tailor each of your client's hosting packages to their specific needs.
Now that you know what to look for in a high quality reseller hosting provider, let's dive into our personal recommendation. (But don't worry, each of these web hosts meets or exceeds all of the above criteria.)
#1. SiteGround
Premium Reseller Hosting at an Affordable price
---
---

Load time: 475s
Uptime: 99.99%
Cost: $10/69/month (promotional price for the first 12 months)
Storage: 40 GB/account
Support: 24/7 365 Priority Support
Money Back Guarantee: Yes
Visit SiteGround.com 
---
SiteGround is the fastest and most reliable reseller on this list with a blazingly fast 475 ms average load time and a guaranteed 99.99% uptime (which allows us to forgive their confusing-as-hell pricing).
We've been big fanboys fans of SiteGround for quite some time and their reseller hosting services maintain the sterling reputation they've built over the past decade.
They offer white-lable hosting with their GoGeek and Cloud plans, but in reality if you want you could even resell hosting on the GrowBig plan.
SiteGround is our top choice, because of their great in-house built tools and features, special focus on security, speed boosters, extremely easy dashboard, which gives the option every website on the hosting account to have its own Site Tools and to use it's own portion of resources.
#2. A2 Hosting
A Feature Rich Web/Email Host (With a Slightly Higher Price Tag)
---

Load time: 601s
Uptime: 99.99%
Cost: $13.19/mo
Storage: 30 GB
Support: 24/7 365 Live Chat
Money Back Guarantee: Yes
Visit A2Hosting.com 
---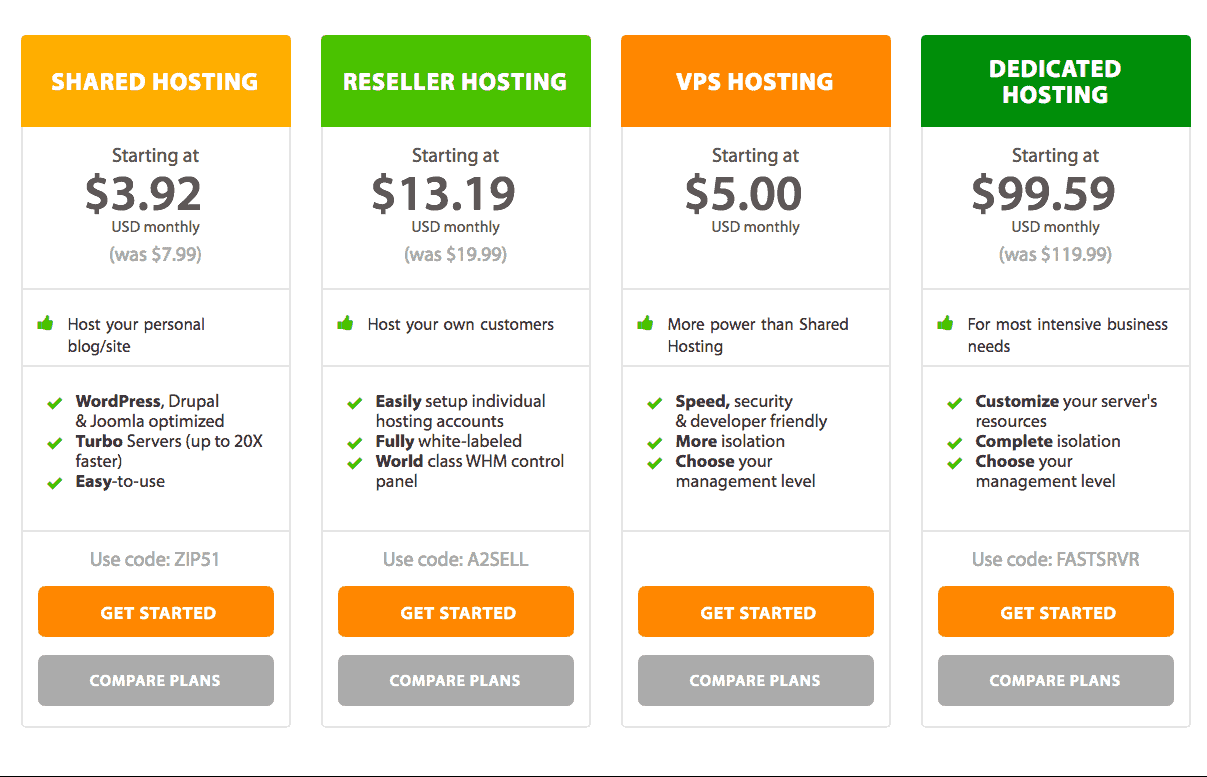 In the famous words of Charles Darwin, "It is not the fastest or most reliable reseller hosting service provider that survives, but the one who provides the most value for the price." (Paraphrasing here…)
In our experience, A2 Hosting doesn't offer the fastest load times or most reliable uptimes of our recommended hosts, they are, without a doubt, the best value for the price you pay. When you consider that A2 Hosting will save you roughly $5/month over SiteGround or Hostgator's packages, the slight discrepancy in their performance becomes nominal.
Charging only $13.19/month for new customers, A2's reseller hosting package is an absolute steal that will keep your clients happy and your wallet full.
They offer a high degree of customizability and access to 24/7/365 customer support who (despite our best efforts) has proven over the years to be entirely unflappable. If you aren't completely thrilled with A2's reseller hosting, you are protected by their 'Anytime Money Back Guarantee'.
#3: HostGator
Exceptional Features, Unfortunate Price Tag
---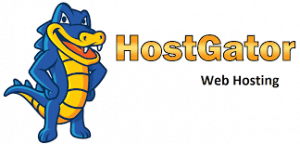 Load time: 657s
Uptime: 99.99%
Cost: $19.95/mo
Storage: 60GB
Support: 24/7 365 Live Chat
Money Back Guarantee: Yes
Visit HostGator.com 
---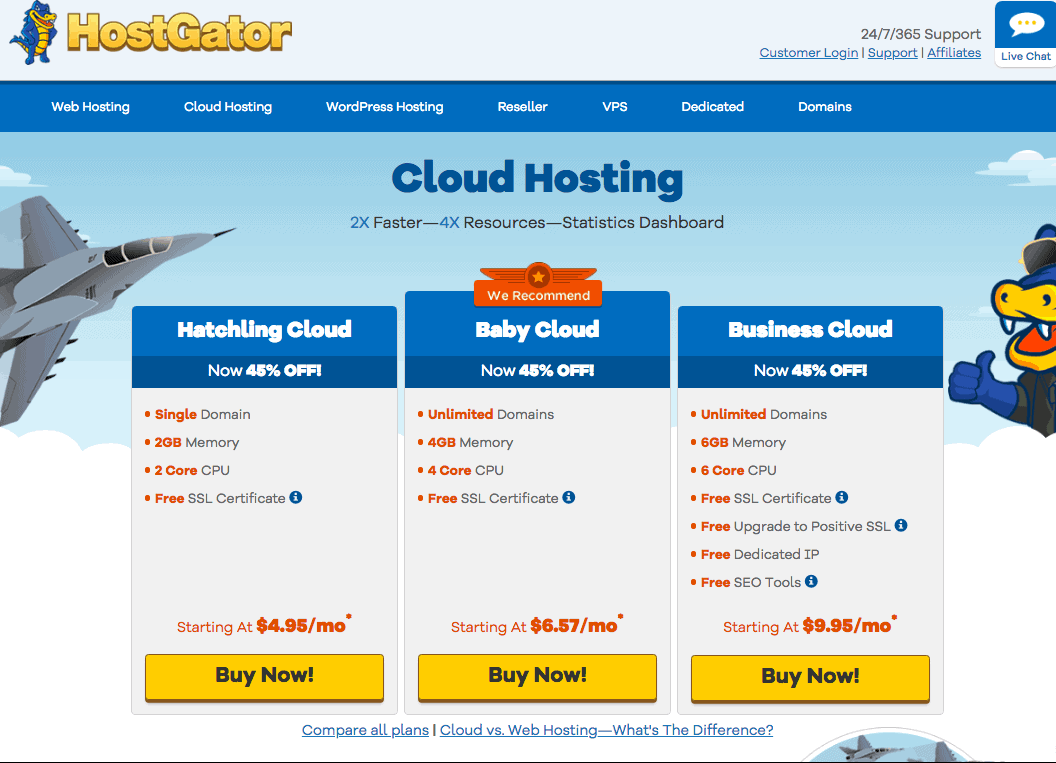 Although they are the most expensive reseller on this list, we would argue that HostGator provides the biggest bang for your buck and offers high quality services that will keep you and your clients happy as a ham for years to come (I never did understand that analogy). 🐷🤔
While they offer a 99.99% uptime guarantee (like all of the other hosts on this list) and a load time of 657 ms, where HostGator truly shines is in the sheer abundance of extra features and bonus goodies they offer to new customers.
Unlimited email accounts? Check. ✅
Unmetered domains, subdomains, and FTP accounts? Check. ✅
Mind-blowingly good customer support, a no-hassle money back guarantee, and a slew of security features? Check, check, and check-a-roony! ✅ ✅ ✅
After using and reviewing HostGator for many years, they are easily one of our favorite reseller hosting providers of all time and you'll be hard pressed to find a more affordable and reliable service out there (trust us, we've looked).
Final Thoughts
---
Although offering reseller hosting packages to existing clients can prove to be more challenging than you may initially expect, it's an excellent way to generate consistent and predictable passive income... without learning a crazy new coding skill, investing in real estate, or diving into the complex world of cryptocurrencies.
And if you decide to jump into the world of reseller hosting headfirst, then I triple-dog-dare you to try and find a better provider than the ones we've recommended here.
As always, be sure to do your own research and conduct your own due diligence before making your final decision and, if you have any questions, comments, or concerns, feel free to drop them down below and we'll get back to you as soon as possible.
Hope this helped, now get out there and start reselling some hosting packages!
You May Also Like: