Hosting Canada Testing & Review Methodology
We take our testing seriously. Our goal is to provide objective reviews and information to help our readers. The only way to do that is with effective testing methods.
So let's take a look at how we do that.
Our Four-Step Process
1. Uptime and Downtime Tracking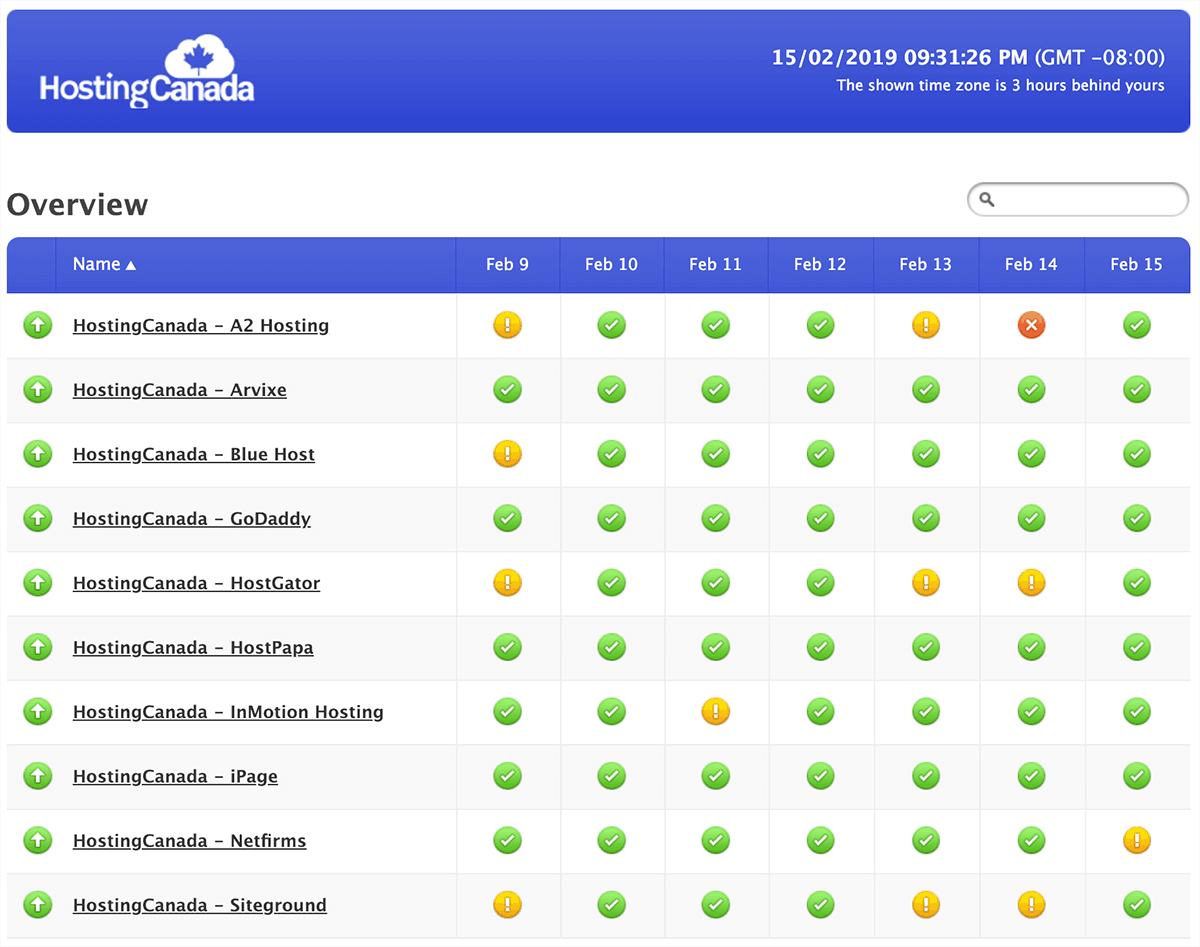 If you aren't sure of what this means, think of it as the time a website is accessible or unaccessible.
How many times have you tried to load a page but feel frustrated by its slow speed and end up reading another site?
That's downtime and it's what we want to avoid.
We use Pingdom to track our highest-rated web hosting providers via automated uptime monitoring and ping-testing. We test if the site is up 50 times per minute (yes minute) 24/7. We've tracked that data over the last year to get some great long term data.
Take a look at our chart. The green circles are what you're looking for. Yellow or red indicate sites going down.
If you'd like to see this in REAL time click here.
*Please note – we decided to use our client sites and NOT testing sites.* The reason is simple: testing sites get zero traffic and usually have only one page. Gathering data from blank testing sites makes no sense and gives inaccurate data. Our tracking sites are live, functional ecommerce sites that have traffic and sales. We have also hidden the URLs to protect client privacy.
2. Compare Pricing
It's important to know what you're getting with hosting. While there are many different packages available including dedicated, VPS, cloud and shared hosting, we focus on the shared hosting to make our general web hosting comparisons.
What we look for is simple: performance for price.
Here is how we do it:
Compare Bandwidth – How fast is the site sending information?
Hard-drive Space – It's important to know how big the allotted storage space is for your site.
Linux or Windows Hosting – We opt for Linux hosting every time for better performance.
Security Monitoring – Does the hosting company provide this?
Leveraged Content Delivery – CDNs are an important way to get data across multiple geos faster and more effectively.
Datacenter Location – The physical location of the datacenter is extremely important.
Specific Questions to Ask :
Bandwidth:
We use Pingdom to track the bandwidth of various hosts to see how fast they are sending (and receiving) data.
Low metrics in this area indicate a host that is operating via limited server resources. Unless we're talking about discount ultra cheap hosting this is a big no-no.
Shared hosting sometimes likes to "dip" into a communal pool of shared resources but this isn't a fair method of distributing bandwith strength
Storage
While we haven't written a post about why

unlimited hosting is never really unlimited

,

we're generally pretty cautious of any companies that markets itself on this basis

.
Low storage space is one of the most common ways for a company to suddenly up-charge your plan. They can essentially take your hosting plan for hostage using this method.
This is an important consideration when looking at building content heavy sites like Ecommerce or photography blogs.
Linux vs Windows
Datacenters rely on servers which need to run on a basic OS (operating system). Generally speaking, the two most common hosting OS systems are Linux and Windows. We opt for former over the latter for performance reasons.
Security Monitoring
This is a big one for us and while there is more below we look for hosting companies that include basic security monitoring for customers. This is important for two reasons.
Server side security monitoring is a lot more effective than client side monitoring as client-side applications require plugging into an API or pulling requests from the server – so why not just do it server side?
Vulnerabilities on the DNS level or server level are the issue of the hosting company, NOT the customers.
CDN Networks
If you're running a site that gets above 10,000/month traffic we highly recommend using a CDN. This will allow your site to be cached on cloud servers throughout the work for faster loading time.
This is extremely important to consider when looking for the best performance possible.
Datacenter Location
While this might not seem like a big one for most people, it's important.
The physical distance from your datacenter to your end user's computer makes a big difference. This is the same reason why getting an Internet signal when you're off camping is pretty hard.
The solution for this is dispersed datacenters, cloud datacenters like Google Cloud or AWS or leveraged content networks like CDNs.
The biggest question we ask is are the hosting companies simply resellers or do they 100% own their data centers. We only recommend the latter as the former is often overpriced, slow and full of vulnerabilities.
3. Security Security and More Security
This isn't something most people think of when they start a website, but the fact remains that every day hackers are scanning websites and personal blogs for vulnerabilities.
You might be thinking "hey, I have a blog about my two cats, why on Earth would they want to hack me"?
The answer is pretty simple – they don't care about your website, they want to get at the underlying server. Once a malicious third party can control or use your server resources they can launch more attacks on other sites.
We take security very seriously at Hosting Canada. Here's what we look for:
Vulnerabilities Reports – We subscribe to some of the leading publications for cover recently uncovered vulnerabilities. If there is an issue we usually find out about it the same day. We make sure our clients' sites as well as our recommended products aren't vulnerable.
Security Scanners – Before I mentioned our live uptime tracker, we also do the same with a third party security scanning software that looks for vulnerabilities on our sites as well as the servers themselves.
4. Real Human Support
Nothing is worse than trying to talk to support about your problems and getting an outsourced worker from another country who can barely understand what you're saying.
We test all the hosts you'll see on our site and then rate them on a sliding scale of emojis. 😠😨😶😐😊🥰
What we look for in support:
Do they speak English well?
Are they robots? (sorry all you robot support people)
Can they help you with technical problems?
Is support relegated only to support tickets?
Like this…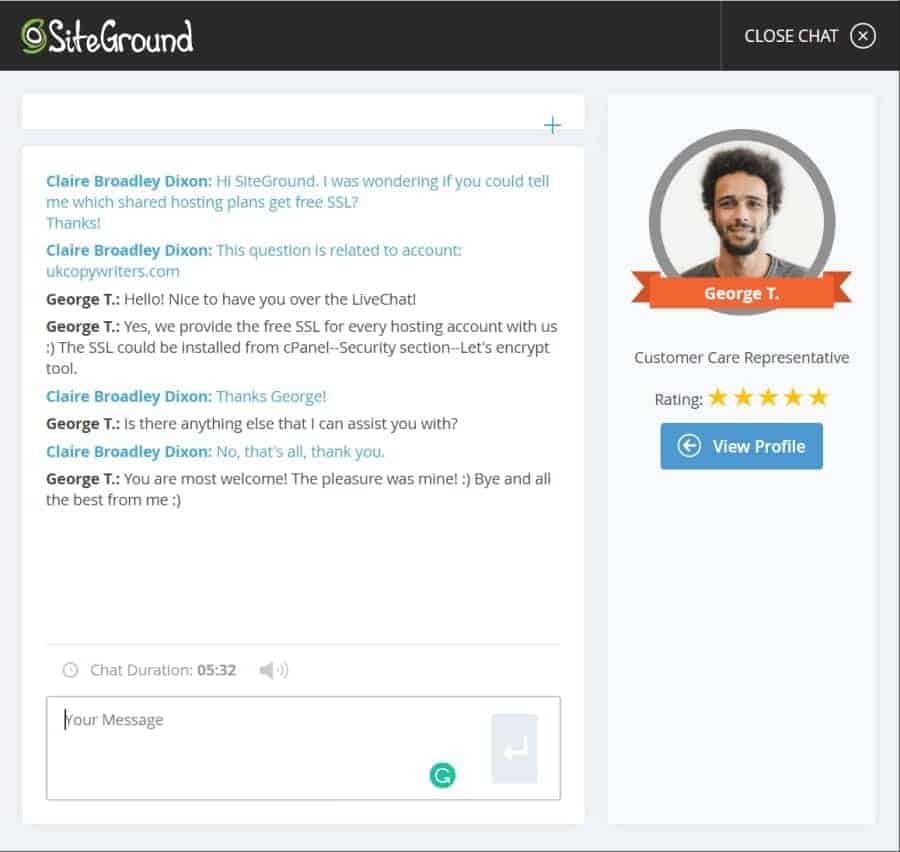 That's How We Evaluate Every Host and Vendor on hostingcanada.org
That's our testing experience in a nutshell. We strive to provide the most objective information out there when deciding on which company to go with.
If you have any more questions, please feel free to contact us.